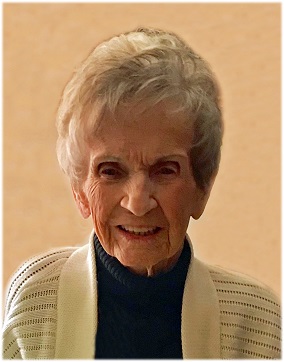 Mary Olive Muiter
September 1, 1921 - December 25, 2018
Mary Olive Muiter, age 97, died peacefully in her sleep on December 25, 2018, in Farmington Hills, Michigan. As a family we cannot think of a better day for our mother and grandmother to leave this earth and join Jesus than on Christmas Day, His very birthday.
Olive, as she was known, was born on September 1, 1921, to Ralph "Pap" and Willa Morgan in Pittsburgh, PA. Olive was a loving twin to Nelle, and a devoted sister to Dorothy. She graduated from Robert Morris University in Pittsburgh, PA in 1940. Olive married Robert A. Muiter and the couple had two children, Robert "Robbie" and Robin. They raised their children in Southfield, MI and eventually moved to Pinehurst, NC as they were both avid golfers, and enjoyed the company of many friends.
Olive was preceded in death by her husband and sisters and is survived by her children Robbie and Robin (Danny) Vandercook, her five grandchildren, Rob, Amanda, DJ (Hilary), Erik, and Davis. A private family remembrance will be held in the future at Great Lakes National Cemetery in Holly, Michigan.