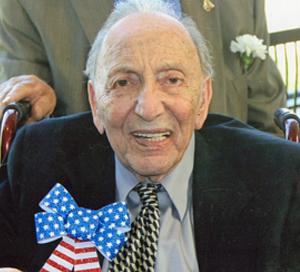 Michael E. Zervos
June 12, 1924 - December 28, 2018


Michael Evangelos Zervos, born to Evangelos and Maria Zervos, took his first breaths on June 12, 1924 in Pittsburgh, Pennsylvania. Evangelos owned a candy shop and a hat cleaning store. Maria was a devoted, stay at home mother. Although Evangelos and Maria raised their family in Intercity (North Side) of Pittsburgh, the Zervos family never lost touch with their strong Greek roots. Both Evangelos and Maria were Greek immigrants, and Maria, a strict traditionalist, would rarely speak English in the home. Evangelos, a very hard worker and family man, devoted himself to providing for his family. Michael had three brothers, John, Peter, and Gus. Without a doubt, his older brother John was his favorite person in the world. When the two of them were 10 and 14, their younger brothers were born, but the bond the two of them shared was unbreakable. In fact, Michael lied about his age, so he could enlist in the Army at 17 just to be closer to his brother. Later, Michael uprooted his own family and moved to Detroit, so he could help John achieve his dream of becoming an insurance broker. Having lost everything in the Depression, the Zervos family was poor; however, they were undeniably close, loving, and made hard work their family mantra.
Besides claiming he enjoyed doing absolutely everything as a child, playing sports in the streets was a favorite past time for Michael. He also enjoyed going to the park and hiding in the many cannons found there.
Michael graduated from Allegheny High School in 1943. He was an outstanding singer and even dreamed of singing professionally. However, his mother insisted he attend Robert Morris College instead. Michael also served in the Army, having stormed the beaches of Normandy on D-Day. He served for six years and earned five Bronze Battle Stars during his service to his country.
Michael met his wife Irene through friends of the family. They married in 1954 in Murfreesboro, North Carolina and spent their honeymoon in Florida. Their first home together was in Pittsburgh. Michael was an insurance broker and vice president at Zervos Group, Inc. Together, Irene and Michael raised three wonderful boys. Michael and Irene let their boys be very independent and raised them to be hard workers. When Irene was out of town, Michael would make his boys eat Spam just as he did in the Army. He would also tell them he could do absolutely everything. One of his greatest joys in life was seeing his kids become successful. Michael loved being a "Zervos" and passed that love onto his children.
In addition to his devotion as a family man, Michael liked cruises and taking the family to Murfreesboro, North Carolina where his in-laws lived. Michael loved singing and playing volleyball. He was an outstanding mathematician and could read and write in Greek. He was also highly organized! Michael loved to make up funny and inventive stories about himself. One classic story he told was that he was a wrestler. This tale was from a long line of stories in which he claimed he did every kind of job possible. He once told his boys he was a pilot on a zeppelin and was both a pro wrestler and boxer. He even told the story that he tried out as a marathon runner for the Olympics. Additionally, he loved to give people and things nicknames. He called the ice cream truck "frosty car" and created other entertaining names for people. He once met a man at church with the last name of Foucianis. He loved that name so much that he would call everything, "foucianis." Michael never said anything bad about anyone, and he was always a proper gentleman. He was a man of courage with a strong work ethic. His ability to make up a story and convince everyone to believe every word was legendary.
Michael lived a long and exceptional life and, after devoting a lifetime of love to his family and friends, completed his life's journey on December 28, 2018. He will be greatly missed by all those who knew and loved him. Michael was the beloved husband of Irene for 64 years. Loving father of Angelo (Mary), Stephen, and George (Lisa). Proud grandfather of Michael, Argyrios, Ereni, Nicholas, Demetrios, and Sophia. Dear brother of Peter (Anna) and Gus (Aynna). Michael was predeceased by his parents, Maria and Evangelos, and his older brother John (Maritsa).
Visitation for Michael will be held on Friday, January 4th, from 2:00 p.m. until 8:00 p.m., with a 7:30 p.m. Trisagion Service at McCabe Funeral Home, 31950 W. 12 Mile Rd., Farmington Hills. He will lie in state on Saturday, January 5th, at 10:30 a.m. until the time of his funeral service at 11:00 a.m. at Holy Cross Greek Orthodox Church, Farmington Hills. Burial with Military Honors will follow in Oakland Hills Memorial Gardens, Novi. A reception will follow at St. Mary's Cultural Center, Livonia.
In lieu of flowers, donations are appreciated to Holy Cross Greek Orthodox Church.