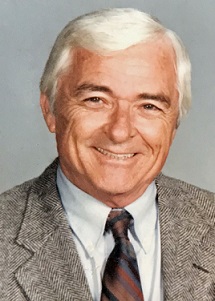 John 'Jack' Joseph Leavy, Jr.
August 15, 1929 - February 15, 2019
With profound sadness, we announce the passing of John Joseph Leavy Jr. on February 15, 2019 at the age of 89.
He was fondly known as Jack, Grandpa, Jackie, Dad, best friend and was adored by his family and by everyone he touched. Jack was a devoted family man who adored his children. He leaves behind his beloved wife Joanne, after 63 years of marriage, his loving children Kerry (Bruno Tome) Leavy, Nancy (late husband Frank) Hoag, Jack (Cathie), Patrick (Lisa), and Meghan (Robert) Isola, 11 cherished grandchildren, 4 great grandchildren, dear sisters Sue Tompson and Kitty Keiffer, and brother-in-law Richard Similuk.
Jack spent his long working career at Dundee Cement Company. Rising up from a sales role to leading a sales force to make Dundee one of the largest cement companies in the world before he retired, Jack never stopped. He was smart, funny, loving, and generous. He spent countless hours helping his kids with their businesses or helping with his grandchildren. His happy place was his cottage on Watkins Lake; he loved it there. What he loved most about it was seeing family and their friends enjoy being there. He was the life of every party and never wanted to miss an event. His sense of humor made everyone feel good about themselves. He always had a way of making you feel loved. He was a humble man that just loved having fun. Jack and Joanne would go to every event for their children or grandchildren that they could. He wanted to see and be a part of everything to do with family. Jack was a one of a kind. He will be sorely missed by everyone he touched. We are blessed that he was part of our lives and will forever be grateful for the impact he had on us.
We celebrate Jack's life with a visitation on Monday, February 18th, 2–8 p.m., with a 7 p.m. Scripture Service at McCabe Funeral Home, 31950 W. 12 Mile Rd., Farmington Hills. He will lie in state Tuesday, February 19th, 10 a.m. until the time of the Funeral Mass 10:30 a.m. at St. Fabian Catholic Church, 32200 W. 12 Mile Rd., Farmington Hills. Interment at Holy Sepulchre Cemetery, Southfield. In lieu of flowers, Memorial Contributions are appeciated to the Andrea R. Hart Living Trust to benefit Jack's great grandson Terren Logan or to Fr. Solanus Guild in his name.