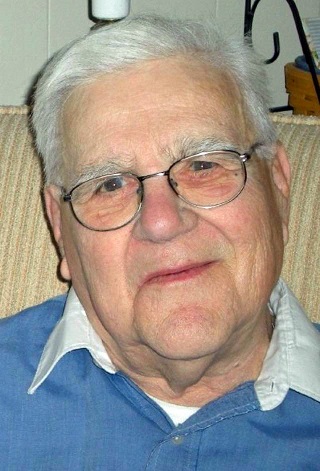 Leonard Balkus
August 26, 1926 - February 20, 2019
Heaven gained a truly special angel today when Leonard Balkus was called home. He was surrounded by love and family as he crossed over.
Uncle Lenny was the best Brother/Uncle/Godfather/bonus Grandfather that we could ever have imagined. He was the Chief, a true character with a quick and sassy wit. Lenny was a World War II Navy Veteran with a deep love of country, and a proud Lithuanian. He was a grandfather figure for so many of his great and great great nieces & nephews. Lenny was a devout Catholic who dedicated his life to serving Christ and the Divine Providence Church. He ran a free laundry service in his basement (L3- Lenny's Lithuanian Laundry) for the family to encourage home visits from college. He loved when he had visitors, but was never too shy to tell you when your stay was done, "ok, that's enough, time to go. God Bless." He was one of a kind, a loyal and loving man, who made an impact on the lives of all who knew him in his 92.5 years on earth.
God Bless you Chief!
Visitation for Leonard will be Friday, February 22, at McCabe Funeral Home, 31950 W.Twelve Mile Road, Farmington Hills, from 3-8 PM with the Rosary being recited at 7 PM. Funeral Mass will be 10 AM Saturday, in state 9:30 at Divine Providence Lithuanian Catholic Church, 25335 W. Nine Mile Road, Southfield. Interment with Military Honors will be 11 AM Wednesday, February 27 at Great Lakes National Cemetery, Holly Michigan. Memorial contributions may be made to Loaves & Fishes, Southwest Detroit, P.O. Box 10552, Detroit, MI 48210