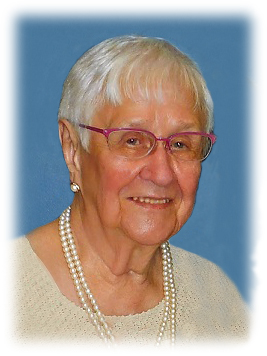 Eugenie Homeszyn
June 5, 1924 - February 28, 2019
Eugenie Homeszyn, age 94 of Farmington Hills, passed away February 28, 2019.
She was the beloved wife of the late Francis and the late Joseph. Loving mother of Greg (Elizabeth) Golem and step-mother of Jerry (Cathy), Leonard (Gerry) and Mary Ann (Larry) Stachowiak. Eugenie is also survived by grandchildren, many nieces, nephews and extended family members.
She will lie in state on Thursday, March 7th at 9:30 a.m. until the time of her funeral mass at 10:30 a.m. at St. Fabian Catholic Church, Farmington Hills. Burial will take place in St. Hedwig Cemetery, Dearborn Heights.
Even though you know the time will come, no matter what you know is happening, and how someone is failing, somehow you deny the signs, not realizing their import thinking them less than they are. Nothing prepares you for the call, and life changing, as you'd known it. My mother-in-law, Eugenie Homeszyn left this world last evening. She was 94 years young.

Her life spanned the Great Depression, through World War II, to the Detroit riots, Vietnam, up to today. Growing up in Detroit, Michigan she lived through its rise to greatness, its decline, and saw its current resurgence. She experienced so many things, and had so many stories to tell about those times. That she remembered going to see Benny Goodman perform, and a young Frank Sinatra was awe-inspiring to me, let alone Tom Jones, Englebert Humperdinck, and Elvis before the white jeweled spandex suits.

She married her grade school sweetheart, only to have him taken from her suddenly in young age by heart failure, leaving her widowed with a 9-month old son to raise, and crushing grief to reconcile. She carried on, and later remarried, yet 30-plus years later found herself widowed once again. Still, a sense of light-hearted fun and curiosity sustained her.

Despite life's setbacks, she was so young at heart and full of fun, and carried that attitude through her life. She could be tickled by an off-color joke, and giggle with glee, or laugh at funhouse amusements. Yet she held a deep sense of Spirit, and honored the traditions of her Catholic upbringing.

Pure Polish by heritage, she was anchored by that sense of culture and family. She spoke Polish fluently growing up with her Polish Immigrant parents, and identified innately with the foods and traditions of that heritage. It was all in her DNA.

She was enthralled by the exotic, and saved things from other countries like small Indian bells, or Edelweiss earrings, or cups and ceramics from other countries.

Simple things appealed to her, yet she had a creativity and sense of style with an eye for beautiful things. This led her to sew her own clothes, dress her son like a dapper little man, and take up the art of millinery, making hats to wear with her clothes. As I was going through her things, I found many lovely things she'd acquired along the way like a pair of Cashmere gloves, simple except for a single stylish braid knitted along the index side of the glove. Old fashion magazines in her sewing machine drawers were still open to fashionable designs she'd seen and admired.

In the end, her heart gradually failed her, and her declining eyesight made it hard to enjoy even simple things. The last remaining member of her larger family of mother/father, two brothers, sister, numerous cousins, son, daughter-in-law, step-children, their husbands and wives, nieces, nephews, and grand-children she brings to close her families' chapter of the Great Generation. Godspeed, Mom. You deserve this final release from a body that couldn't hold your spirit any longer. Fly now. You're free. We love you always.

(written by Betsy Golem, her daughter in law, married to Eugenie's son Greg)