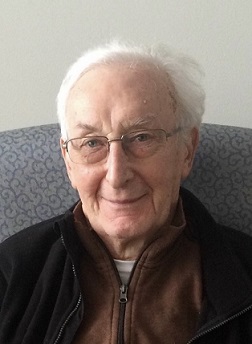 Larry Joseph Cinat
June 15, 1931 - March 13, 2019
Larry Joseph Cinat, 87, of Farmington Hills, Michigan, passed away peacefully on Wednesday, March 13, 2019. Larry was born June 15, 1931 in Windsor, Ontario, Canada.
Beloved husband of the late Gloria (Zilli) Cinat, who was blessed to be his childhood sweetheart and wife of 53 years. Loving and kind father of Laura Jean Cinat (Matthew Reese) of Evanston, Illinois. Adoring grandfather to Susan Isabella Reese and Emma Catherine Reese. Beloved brother-in-law of Larry Zilli (Eldred Zilli). Dear uncle of Alison Zilli (Rob Bornais) of Windsor, Ontario and Raymond Zilli (Katherine McKittrick) of Toronto, Ontario. Larry was also preceded in death by two daughters, Lissa Marie Cinat of Farmington Hills, Michigan, and Dr. Marianne Eva Cinat of Rossmoor, California; his father, Elia Cinat of Valvasone, Italy; his mother Eva (Danelon) Cinat of San Vito al Tagliamento, Italy; his two brothers, David Cinat and Luigi Cinat (Goldene).
Larry's life was an example of humility, generosity, and selflessness. He dedicated his life to family, always present and always making other people's lives easier, more joyful, and more fulfilling. He did this without grandiosity, but with meaningful daily acts of love and kindness. His gentle smile and beautiful eyes put people at ease and created a sense of safety. Larry grew up speaking Furlan, a language of the Friuili region of northern Italy.
As a young man, Larry was an athlete, competing in baseball, basketball, football, and track. At Patterson High his record for the hop skip and jump was held for decades. He was an avid sports fan, following the Tigers, Red Wings, and Lions, and for 40 years held season tickets to University of Michigan Football. He loved playing softball and football with his daughters and granddaughters, teaching them how to kick field goals, place hit, and snag fly balls. He and his wife, Gloria, were longtime members of the St. Ives Bowling League and often hosted Uno parties at their Southfield home. Larry and his family enjoyed vacations in Pompano Beach, Florida, and winter evenings on the backyard ice rink he made for them. At family gatherings, Larry would be cajoled into performing a few boogie-woogie piano tunes to everyone's delight.
Larry attended the University of Detroit, earning a Bachelor of Science in Mechanical Engineering. He designed heating, ventilation, and air conditioning systems for commercial buildings, including the Viper plant, the Motor City Casino, and other landmarks. In the early 90s he designed the world's largest indoor waterfall, which was recognized by the Guinness Book of World Records. Its beautiful marble and brilliant engineering graces the lobby of the International Center in Detroit. Larry's work also took him around the globe, and he never failed to return home with dolls, clothing, and other souvenirs to delight his daughters and teach them about other cultures.
In later years, while bearing the burdens of aging and loss, Larry remained full of gratitude and joy. He cheated death on more than one occasion. He simply loved life and left the world a better place. The way he lived serves as a model and inspiration to all who knew him.
Larry's visitation will be Tuesday, March 19th, 4-8 p.m. at McCabe Funeral Home, 31950 W. 12 Mile Rd., Farmington Hills. He will lie in state Wednesday, March 20th, 10:00 a.m. until time of Mass 10:30 a.m. at St. Fabian Catholic Church, 32200 W. 12 Mile Rd., Farmington Hills. In lieu of flowers, donations can be made in Larry's honor to the Marianne Cinat Memorial Fund for Burn Survivors: http://www.surgery.uci.edu/MCinat_Memorial_Fund.asp or to the Alzheimer's Foundation.