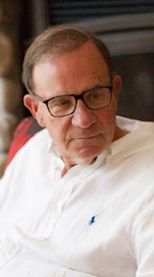 Harry Ewald
June 10, 1942 - April 4, 2019


Harry Ewald took his first breaths on June 10, 1942 on the "Blvd" in Detroit, Michigan. Harry lived a long and exceptional life and, after devoting a lifetime of love to his family and friends, completed his life's journey on April 4, 2019. He was born to his devoted, stay at home mother, Justine Ewald and his father, Harry Ewald, a hard-working manager of a small loan company.
Harry grew up on Carlisle in Detroit, Michigan along with his parents and four siblings. His birth was considered an especially joyous occasion because his parents had previously lost a full-term daughter, Barbara Jean, at birth. Harry grew up with his sister, Mary Grace and brothers, Bernie, John, and Tommy, who died in 1999 at the age of 48. The Ewald family lived in a home that was 938 square feet, and Harry had the amazing childhood experience of living where over 100 kids resided in his section of the town alone.
Harry and his brother Bernie attended St. Veronica's while his three youngest siblings had to attend public schools because the cost of private schools became too burdensome. The Ewald children were very active. In fact, "family lore" says that they would often get into mischief doing things like jumping off their garage roof into a kiddie pool. The children were always playing outside regardless of the weather or season. Harry also enjoyed going to Pontiac Lake for family picnics. While he was not an athlete, he did enjoy a little baseball when the family all gathered.
Each night at 7:15 p.m. on the dot, the rosary was played on the radio. So, the family prayed the rosary together every evening, no matter what. Their dad would whistle from the front porch for the kids to come in from playing so they could share that experience together. Sometimes Harry would join his father and whistle everyone in, too. With plastic over the sofa to keep their stinky bodies from ruining anything, they would pray the rosary and then run back out and play. Harry loved the summer, Sunday outings to Pontiac Lake, and he belonged to the Squires, which was an organization for acclimating kids to business principles and activities. He also loved going for ice cream on Sundays as well. Additional "family lore" says Harry was considered a "greaser" and hung out at the local pool halls.
Harry's parents, Harry and Justine, both passed away before he turned 20 years old. Harry remembered his mother to be a quiet person who did not interact with many people. Her family was her life, and she made sure her husband had crisp, white shirts for work, and the kids had food on the table. Harry remembered his father as being religious although he didn't outwardly impose his beliefs on others. He was very involved with his five children, and when he wasn't working, he enjoyed playing ball and having family picnics. Harry's father was diagnosed with an inoperable brain tumor and died only two weeks later. His mother died of an embolism two years after her husband's death leaving Harry in charge of his four younger siblings.
Harry had a priest sign a legal guardianship form so he could keep his siblings together until he turned 21. Although the priest reluctantly signed the paper work, he was not involved with the raising of Harry's younger siblings. Harry took on that responsibility himself. Harry graduated from Harper Woods Notre Dame High School, but because he supported his four siblings and put them through college, he was unable to finish his own college degree, something he was not proud of; however, he knew that family came first.
Harry was married for 54 ½ years to the love of his life, Judy. They met at a Notre Dame "record hop" where they danced and talked all night. They were married on August 22, 1964 at St. Raymond's Catholic Church, and Judy helped Harry raise his younger siblings. Their wedding day was a rainy day, and they drove to Florida for their honeymoon. Their journey, however, was sidetracked when Harry decided to follow a car with a Florida license plate…which was NOT going to Florida.
Their first home, a townhome, was in Roseville, Michigan. After selling the townhome, Harry and Judy bought a ranch home on the west side where they then lived for 47 years. The address where they lived and raised their family was in Farmington Hills.
Judy and Harry had four children in five years: Ann-Margret, Jennifer, Matthew, and Stephanie. They stressed education and a love for life. Faith and family always came first. Harry was an awesome father, and every one of his children were his "favorites" … "favorite oldest daughter," "favorite second oldest daughter," "favorite only son," "favorite youngest daughter" he would lovingly call each of them. Harry loved being surrounded by his children; the more in the house, the happier he was. He was also the kids' "Uber" driver of sorts even after they learned to drive. If the kids had to meet someone and did not want to have two cars, he was there at the drop of a hat to get them there.
Harry loved to travel, and his favorite vacation spots were any place he could take his family. He was particularly fond of the Virgin Islands and Paradise Island, Bahamas. Harry also enjoyed reading mystery novels but was often too busy meeting his siblings and children's needs to indulge. He was, however, a successful entrepreneur where he dabbled in banking, sales, and owning his own medical supplies business.
His wife of 54 ½ years was his best friend and soulmate. His children and his grandchildren were his life. When he was healthy, he spent most of his time traveling to his grandkids' sporting events, concerts, plays, etc. He savored the moments and the memories.
His children and grandchildren remember Harry's laughter, silliness, sweet tooth, and his love for people. He loved to help the underdog or anyone in need. He was quick with a joke although he could never remember the punch line. He could pick you up when you were sad. Harry was a numbers guy. He loved his yellow legal pad where one could often find him figuring things out. If your checkbook needed to be balanced, he was your guy. If you needed a quick addition or subtraction of a large number, he could answer in a heartbeat.
Harry always wanted to be a clown and tried to make people smile with his sunny personality. He was a master storyteller and would become the life of the party at any function. He loved Frank Sinatra, nice cars, cigars, and a good Grey Goose on the rocks with anchovy olives. He always thought dessert should be served first. One of the greatest things Harry will be remembered for, however, is his many hilarious sayings. Everyone had a name and his one-liners were to die for. This list includes the following:
"Who cares?" "Stop and smell the roses." "You're a delinquent!" "(S)he's us Ann! (S)he's us!" "Life is not fair." "Bows on your toes, bows on your nose, oh my, Josephine!" "You're lovely." "Did anyone tell you today how beautiful you are?" "These guns are registered." "You are such a dinkledorph!" "I am going to hang you upside down by your toe nails!" "Water is for baths." "How ya doin', Sonny Boy?" "Hello, Miss New York!" "Hello, Goils (girls)!" "You're nuts!" "Oh, Ann." "I'm going to see a man about a horse." "De-dump-de-dump, de-dump-de-dump…da, da, da, da, da, da, da-dump -de-dump."
The many years between his birth and his passing were rich and rewarding. He loved and was loved by many. Harry Leo Ewald, a life well-lived.
Harry was the loving husband of 54 ½ years to Judith Ann Ewald. He was also the devoted father of Ann-Margret (Michael) Manley, Jennifer (Paul) Wenson, Matthew (Kim) Ewald, and Stephanie (Ron) Bellisario. Harry was the cherished grandfather of Meghan and Matthew Manley, Samantha (Michael) Zinnecker, Harrison, Nathaniel and Josephine Wenson, Margaret, Mollie and Kennedy Ewald, Mackenzie and Keegan Beatty, and Frankie, Sophia and Gianna Bellisario. He was also the dear brother of Bernie (Annette) Ewald, John (Theresa) Ewald, and MaryGrace (Bruce) Thoms. Harry also leaves several nieces and nephews. He is preceded in death by his parents, Henry and Justine Ewald; sister, Barbara Jean Ewald and brother, Tom (Joyce) Ewald.
Harry's visitation will be held Friday, April 12th, 1 p.m. - 8 p.m. with a 7 p.m. time for Sharing at McCabe Funeral Home, 31950 W. 12 Mile Rd., Farmington Hills. He will lie in state Saturday, April 13th, at 9 a.m. until the time of his Funeral Mass 10 a.m. at St. Fabian Catholic Church, 32200 W. 12 Mile Rd., Farmington Hills. In lieu of flowers, Memorial Contributions are appreciated to Mercy High School Scholarship Fund – Tuition Assistance in his name.