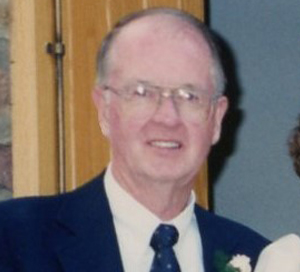 William 'Bill' Oliver Cornish
May 5, 1926 - April 26, 2019


William (Bill) Oliver Cornish took his first breaths on May 5, 1926 in Calumet, Michigan. He lived a long and exceptional life and, after devoting a lifetime of love to his family and friends, completed his life's journey on April 26, 2019. Bill is survived by his beloved wife of almost 69 years, Anita. He will be lovingly remembered by his four children: Sherry (Mike), Bill (Deborah), Bryan (Cheryl), and Kevin (Sue) as well as seven grandchildren. Bill and Anita's first great grandchild is expected this summer.
Bill was born to William Verran Cornish and Jennie Oliver Cornish. Along with his brother Roy and sister Olive, the family lived in Calumet, a mining town with beautiful wilderness, rivers, and Lake Superior nearby. William was a construction supervisor for Calumet & Heckla, a copper mine. Bill's mother, Jennie, briefly cooked for the governor. Bill's parents liked hunting, fishing, family gatherings, woodworking, and church activities.
Bill grew up during the Great Depression and World War II. He was involved in both school, church, and later graduated from ROTC. Growing up, one of Bill's favorite things to do was to spend time at the family cottage in Eagle River. In addition to spending time there with his family, Bill would later go to Eagle River and Lake Superior with friends to wander the woods and enjoy time outdoors.
Bill graduated from Calumet High School in 1944, attended Ferris Institute, and Michigan Agriculture College (now MSU). In addition to earning his private pilot's license, Bill also served in the U.S. Army Air Corp from 1944-1947. In the military, he worked as a radio repair specialist and served tours in the Philippines, Guam, and Japan.
Bill met Anita Backes in 1949 on a bus ride back to Michigan Agriculture College. The two fell in love and were married in June of 1950 in Michigamme, Michigan. The young couple's first home was located in Charles Mears State Park. Bill was the park manager and the two lived in the park home there. Working for the Michigan State Parks was a deeply rewarding career for Bill. He once said, "I do not regret the choice for a moment." Bill and Anita raised four children-Sherry, Bill, Bryan, and Kevin. They were both active and supportive parents. They encouraged pursuing a good education, going to church, and finding good friends.
Bill had many hobbies such as flying planes, target shooting, and downhill skiing. He was also a member of the Optimist Club of Gaylord. As a Park Manager and District Supervisor, Bill also worked as a game warden during deer hunting season. However, spending time with Anita and the children was central to Bill's life. Camping was an especially favorite family past time for them all.
A particular family camping highlight included camping at Wilderness State Park. While in one of the log cabins there, the family was awakened by bats flying inside the cabin. Bill cleared the family out to the car and got their cabin changed.
At Porcupine State Park, Kevin had a bad dream. He started yelling, "Get him off me!" Needless to say, campers from all around ran to rescue young Kevin from his bad dream.
One fall, the family packed the car and pop-up camper for three weeks. On this trip, the family traveled through Iowa, Nebraska, Kansas, Colorado, California, and eventually drove into Mexico. In Colorado, the kids played tag in the mountains until the thin air wore them out. One night in Kansas, the family set up the trailer in military fashion in pouring rain. On this trip, they also toured Bryce and Zion Canyons, the Grand Canyon, Salt Lake City, and the Mormon Tabernacle. They also stayed in San Diego at Uncle George's. Finally, the family rounded off the trip with a visit to Mexico.
In another outing, the family took a trip to Niagara Falls, the Adirondack Mountains, and New York City. On this trip, they got lost in downtown and needed a cab driver to lead them back to the campground.
Bill and Anita enjoyed almost 35 years of retirement; many of those years were spent traveling in their motor home. Bill had a genuine interest in what his children, and later his grandchildren were doing. He always placed others' interests over his own. In fact, while in hospice, he would never complain. Instead, he would ask the nurses how their family was doing.
Bill was a wonderful father and in Sherry's words, "I was always proud of who my Dad was! He was calm, quiet, and caring and had a great sense of humor! Thinking back to when I was a high school senior, I was told by Mom that the outing I had planned with my friends was not happening. I decided it was and "ran away" from home. The next evening as I was at a friend's workplace trying to decide where to spend that night, my Dad walked up, placed his arm around me and calmly asked, 'Are you ready to go home now?' I was! My dad loved us, his children, and our families in his quiet and non-judgmental way. My love of camping came from his career with Michigan State Parks and the years we all enjoyed camping with our parents! He will always be the Park Ranger to me! He will forever be missed!"
William Oliver Cornish, a life well-lived.
Bill's visitation will be Tuesday 10 a.m. until the time of his Funeral Service 11 a.m. at McCabe Funeral Home, 31950 W. 12 Mile Rd., Farmington Hills.