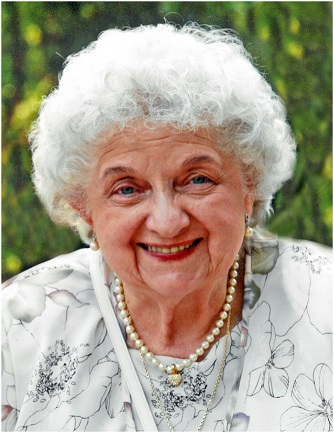 Helen Barz
April 23, 1926 - May 13, 2019
Helen Barz (nee: Marchlewski), passed away on May 13, 2019, at the age of 93. Beloved wife of William (Barszcz) Barz for 58 years, and loving mother of MaryAnn Hayes (Rob), Bill Barz (Colleen) and John Barz (Debbie). She is survived by her sister, Irene Marchlewski, grandchildren and great-grandchildren.
Helen was born in Detroit, Michigan to the late Jan and Mary Marchlewski, who both immigrated from Poland. She had an only sister, Irene Marchlewski, who was her lifelong best friend. They grew up close to their aunt, uncle and many cousins and enjoyed a large extended family full of activity. After graduation from St. Hedwig High School in 1944, Helen worked as a secretary for the Polish Aid Society in Detroit, using her bilingual skills for translation with Polish-speaking clients. She married Bill in 1960, and together they raised a family of one daughter, MaryAnn, and sons Bill and John. Once the children were born, Helen stayed home to be a full-time mom. As the children entered school at Our Lady of Refuge, she became very involved in their activities and the school's Mother's Club.
Years later the children married, and the family grew and included grandchildren, Tom, Joey, Devin, Collin, Nate, Andrea and Jim, followed by the addition of 6 great-children. She was always proud of the accomplishments of her children and grandchildren and enjoyed attending many of their events.
One of her highlights was a trip to Poland with Bill and Irene, to meet for the first time her cousins and extended family that up to that point, she had only communicated with by phone and mail. Helen was a graceful dancer, especially liking Polkas, and she and Bill won dance contests in their early years together. She enjoyed cooking homemade Polish food, playing the piano, crocheting and doing many other arts and crafts. She used her artistic skills to create award winning Halloween costumes and "assist" the children with their school projects.
Helen was defined by her strong Catholic faith and proud Polish heritage but was happiest when the family was around her.
Visitation for Mrs. Barz will be held on Friday, May 17, from 5:00 p.m. until 8:00 p.m. with a 7:00 p.m. rosary service at McCabe Funeral Home, 31950 W. 12 Mile Rd., Farmington Hills. She will lie in state on Saturday, May 18, at 10:30 a.m. until the time of her funeral mass at 11:00 a.m. at Our Lady of Refuge Parish, 3700 Commerce Rd., Orchard Lake.
In lieu of flowers, memorials are appreciated to Our Lady of Refuge Parish.