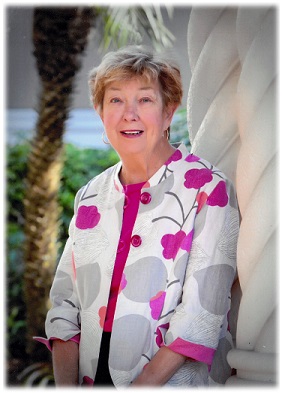 Mary Lynn Prokop
June 27, 1945 - July 11, 2019
Mary Lynn (Learmont) Prokop peacefully passed away July 11, 2019 with family by her side. Mary Lynn was the third child of Beatrice and Dexter Learmont, and sister to Sharon and Terry. She spent her childhood in Detroit, MI and her favorite summer memories were at the family cottage in Harrow, Canada. She played basketball for Immaculata High School's City Championship team and remained close with her childhood and high school friends until the end. Planning and attending her high school reunions were a highlight of her later years.
In 1967, Mary Lynn married Peter Prokop, whom she met at The University of Detroit, and had two children, Kevin and Julie. The family did many road trips to explore other areas of the country but always returned to northern MI, ultimately deciding that Harbor Springs was her little slice of heaven. Pete and Mary Lynn travelled around the country and overseas throughout the years, enjoying their time together and exploring new destinations. As they began to settle into their retirement life, they spent winters in Bonita Springs, FL where they met many dear friends and spent as much summer time as possible in Harbor Springs.
She was a devoted teacher at Our Lady of Sorrows for twenty years, teaching second and fourth grades. While she had high expectations for her class, she adored her students and loved to bring home endearing stories of her day with them. Many of her students returned to visit her -- their favorite teacher -- throughout the years and it was not unusual for some of her former students to stop her on the street for a hug. Although she formally retired so that she could enjoy her grandchildren, she continued tutoring throughout the years for underprivileged children and migrant workers.
Mary Lynn loved to play golf, read and do crossword puzzles. After reading the headlines of the morning newspaper, she would sit with her coffee and dig into the crossword puzzle, often looking up and asking "What's a five letter word for 'new'' that ends with 'H'" She would fold up the crossword puzzle and carry it with her all day, finding a few minutes to spare in hopes that she could complete the puzzle. Although she had to put the golf clubs away a few years ago, crossword puzzles remained a constant in her daily routine and she never gave up on reading.

During her medical travails over the last few years, so many people described her as a "trooper" for her courage in dealing with the cross that she carried. She had a favorite cap with "Attitude" written on it that was a witness to her gumption.
Mary Lynn was a doting "Grandma Cookie" to six grandchildren – Emily, Andrew, Molly, Sarah, Mary and Jack, all of whom were the light of her life. She had many titles—Wife, Mother, Friend, Teacher and Sibling but Grandma may have been her favorite.
She was the beloved wife of Peter for 51 years. Loving mother of Kevin (Katie) and Julie (Paul) Nelson. Proud grandmother (Grandma Cookie) of Emily, Andrew, Molly, Sarah Nelson, Mary Nelson and Jack Nelson. Dear sister of Terry (Sue) Learmont and the late Sharon (Walt) Kelly and sister-in-law of Carol Janas.
Visitation for Mary Lynn will be held on Monday, July 15, from 4:00 p.m. until 8:00 p.m. with a 7:00 p.m. Rosary Service at McCabe Funeral Home, 31950 W. 12 Mile Rd., Farmington Hills. She will lie in state on Tuesday, July 16, at 12:00 p.m. until the time of her funeral mass at 1:00 p.m. at Our Lady of Sorrows Catholic Church, 23815 Power Road, Farmington.
In lieu of flowers, memorial contributions are appreciated to Loyola High School Detroit or PKD Foundation.