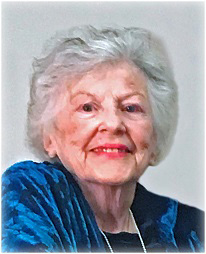 Marie Madden
March 10, 1928 - July 12, 2019
Marie H. Madden, age 91, passed away July 12, 2019. Marie resided in Orchard Lake (with brief exceptions) since moving to the area from the east coast in 1965.
Marie died peacefully in her sleep of natural causes, having been lovingly attended by her husband Jim during the many months of her gradual decline. Right to the last, Marie and Jim enjoyed their simple and intimate routines – morning coffee, newspaper, sharing memories, visiting with or talking with their adult children on the phone, sitting together before bedtime, often expressing gratitude for a long life filled with faith, love and good fortune.
Marie Therese Halpin was born in Roxbury, MA, and grew up in nearby Milton, an inner suburb of Boston. She was the fourth of six children of James J. and Helen (nee Corbett) Halpin. It would be a colossal understatement to say that Marie came from a musical family, and that music was a central aspect of her identity and life. Marie had a clear, powerful, and exquisitely beautiful voice. Music filled her childhood. As a girl she sang at home with her very talented parents and siblings, and in the church choir. As a young woman she earned her way through college in the late 1940s in part by entertaining on weekends, fronting big bands in nearby night clubs. Later she performed in numerous community musical theatre productions, and continued to participate in church choirs through most of her adult life. Each of her five children can recall the lullabies she would sing to them, chosen specifically for each one. Marie carried on this way of intentionally forming deep and unique bonds with each of her grandchildren. Marie seemed to have a song for every human situation, often spontaneously bursting into a song that resonated with the moment.
Marie earned a Bachelor of Arts degree in English Literature from Emmanual College in Boston in 1950. It was not-so-common for a young woman at that time to earn a college degree. But as all who knew her can attest, once she formed a conviction about something, she had an exceedingly strong will. Marie entirely earned her own way through college. Throughout her life Marie displayed a very bright mind and great curiosity, reading widely and attending to current events. For a brief time in her early 60s, she worked as Secretary to the Dean of St. Mary's College in Orchard Lake, where she took advantage of the opportunity to take graduate courses in theology.
Marie approached the tasks of raising five children, making a beautiful home, and performing domestic labor as a vocation, or as she would often say, "a labor of love." Marie loved all things related to fashion and home décor, keeping her eye on what was not only trending but also presented a sense of classic style with a flair uniquely her own. She loved discussing these things with anyone who shared a similar interest.
In recent months Marie and Jim enjoyed living at Waltonwood where Marie received excellent, loving care from a team of compassionate and skilled caretakers. Being an extraordinarily relational person, Marie warmly greeted each one with a bright "Hello Sweetheart" who to a person treated her with tremendous kindness and care for which the family is very grateful. The family is also extremely grateful for the loving care provided by Myla McFarland at home in the several months prior to moving into assisted living, as well as care provided by Seasons Hospice & Palliative Care in her final weeks.
Marie was the beloved wife of Jim Madden for 68 years. Loving mother of Pat (Gary Reid) Madden, James (Susan Macphail) Madden, Katie (Mark) Clifford, John (Shelly) Madden and Joseph Madden. Dear grandmother of Dylan Madden Roth, Philip (Jill Moore) Madden Roth, Talya Sametz-Madden, Laura Sands, Caitlin Clifford, Sean Clifford, Erin (Cody) Edgerton and Jennifer Madden. Marie is also survived by her sister Helen McCarney and her brother William (Peg) Halpin.
Visitation for Marie will be held on Thursday, July 18, from 4:00 p.m. until 8:00 p.m. with a 7:00 p.m. scripture service at McCabe Funeral Home, 31950 W. 12 Mile Rd., Farmington Hills. She will lie in state on Friday, July 19, at 11:00 a.m. until the time of her funeral mass at 11:30 a.m. at Prince of Peace Catholic Church, 4300 Walnut Lake Rd., West Bloomfield. Burial will follow in Pine Lake Cemetery, West Bloomfield.