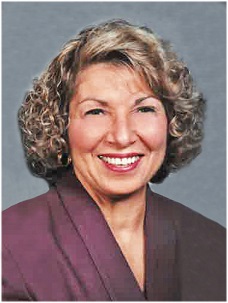 Alia L. Demopoulos
October 1, 1943 - August 28, 2019
Alia L. Demopoulos, age 75, passed away August 28, 2019.
Alia was born October 1, 1943 in Detroit, Michigan, the daughter of the late Gus and the late Barbara Chrisanthakopulas. On January 29, 1982, Alia and George Demopoulos were married. Together, they shared 36 wonderful years, until his passing on August 7, 2017. Alia was a dedicated wife, mother and grandmother, deeply devoted to her faith, and cherished every moment spent with family and friends. She also enjoyed her career, working many years for Blue Cross Blue Shield. Alia loved to travel, cook and bake. Her and George were fortunate enough to see the world together and her grandchildren looked forward to their weekend adventures together just as much as she did. Alia lived her life to the fullest and was thankful for all the blessings she experienced. She will be profoundly missed by all who knew her, especially her loving family.
Alia was the beloved wife of the late George Demopoulos. Loving mother of Sophia (Patrick) Quinn, Gregory Demopoulos and Barbara (Timothy) Somero and mother-in-law of Georgia Vergos. Cherished grandmother of George, Anastasia, Giulianna, James, Alia and Derek. Dear sister of Angie (Richard) Peresky, the late Chris (Paula) Andres and the late Georgia (the late David) Myers. Also survived by many cousins, nieces and nephews.
Visitation for Mrs. Demopoulos will be held on Friday, August 30th, from 3:00 p.m. until 8:00 p.m. with a 7:30 p.m. Trisagion Service at McCabe Funeral Home, 31950 W. 12 Mile Road, Farmington Hills. She will lie in state on Saturday, August 31st, at 10:30 a.m. until the time of her Funeral Service at 11:00 a.m. at Holy Cross Greek Orthodox Church, 25225 Middlebelt Road, Farmington Hills. Burial will follow in Grand Lawn Cemetery, Detroit.
Memorial Contributions in Alia's name may be made to Holy Cross Greek Orthodox Church.