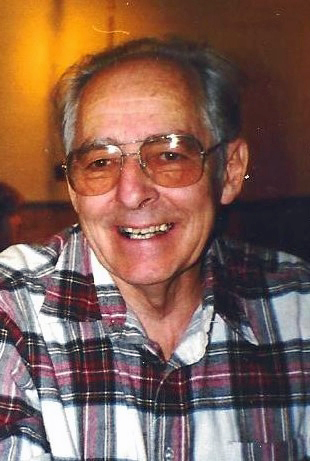 Howard Brown, Jr.
August 20, 1928 - August 31, 2019
Howard James 'Jim' Brown, Jr. of Farmington Hills, passed away August 31, 2019 at the age of 91. He was the loving husband of the late Frances for over 61 years; devoted father of Norman (Brenda), Thomas (Katherine), and Vera (Douglas) Williams; cherished grandfather of Angela Kline (Matthew Donner), Candace (Kyle) Mattson, Amy (Mike) Garbacik, James Brown, Alex (Theresa) Williams, and Jake Williams; caring great grandfather of Aaron, Johnny, Joshua, Olivia, and Sophia; and dear brother of Betty Ruth Brown.
Jim was born in Detroit, Michigan to Howard and Mahala Belle Brown on August 20, 1928. He graduated from McKenzie High School in Detroit in 1947. Later he met the love of his life, Frances, at a wedding in which both took part. Frances was the bride's sister. The two were married shortly after in 1951. Jim went onto build their first home together in Farmington Hills, where they raised their three children and remained residents throughout their lives.
As a lifetime member of the Carpenters Union, Jim worked for Emil Van Sile Co. as well as Wounderlic, and retired after over 40 years of dedication in the finish carpentry business. He was an active member of First Presbyterian Church of Farmington and a member of the property committee. He volunteered countless hours redoing Sunday school classroom doors, building ramps in the sanctuary, videoing and editing services and music programs, and taking care of lighting. Jim is one of the very few men to receive the Presbyterian Women Lifelong Honorary Member award for all of the services he provided to the organization. You name it, Jim did it. He was always willing to lend a helping hand.
Jim was an active member in the Farmington Hills community, volunteering with SWOCC Studios as a cameraman and editor. He was also an Eagle Scout and heavily involved in Boy Scouts as he enjoyed instructing scouts on receiving various merit badges and assisting with projects. Jim also participated in the Farmington Hills Ham Radio Club, communicating with other operators around the world from which he collected QSL cards as mementos. With these skills he was able to volunteer during the Founders Day Festival Parade and would check the emergency sirens around the city.
Jim was also a lover of the outdoors. Eventually building his family campers with his best friend and brother-in-law, Ross Brandon. Ross & Liz along with Jim and Fran would many times, pack up their families and go camping in matching campers. He and Fran were always traveling with their camper and creating memories, often exploring different lighthouses along the way. Teaching children to ski was another beloved pastime of his. Jim's family and friends will always remember him as patient, helpful, and a craftsman. His kindness will remain in the hearts of all that knew him.
A Memorial Service for Mr. Brown will be held Saturday, September 14th, at 11 a.m. with a Memorial Gathering prior at 10:30 a.m. at First Presbyterian Church of Farmington, 26165 Farmington Rd, Farmington Hills. A luncheon at the church will follow his service. In lieu of flowers, Memorial Contributions are appreciated to First Presbyterian Church of Farmington's Memorial Fund and the Farmington Area Goodfellows in his name.