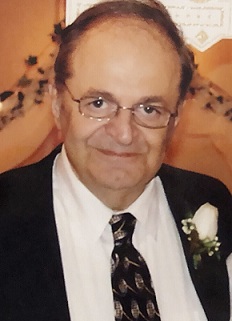 John Michael Habib
May 18, 1935 - September 1, 2019
John Michael Habib, of Farmington Hills, passed away September 1, 2019 at the age of 84. He was the loving husband of Helene for 64 years; devoted father of Josephine "Josie" (Wadih) Kaadou, Joseph (Michelle) Habib, Louis Habib, Theresa "Terry" Habib, Paul Habib, and Paulette (Mark) Bakke; cherished grandfather of Jessica (Kaadou) and Tony Marji, Elizabeth (Kaadou) and Dave Kasha, Gabriella MaGrath, Kaelin MaGrath, Joseph Habib, Alexandra Habib, Tina Habib, and Michael Habib; and caring great grandfather of John Marji, Matthew Marji, another baby boy Marji on the way, and Ishan Lebrew. John was the dear son of the late Habib John Habib and late Josephine (Coury) Habib of Pittsburgh, Pennsylvania.
John Michael Habib was born on May 18, 1935, the only child of Habib John Habib and Josephine (Coury) Habib in Harrisburg, Pennsylvania. John graduated from St. Leo High School in Detroit, Michigan in 1953. After losing his mother as a young man, John became heavily involved in his family's grocery store business. He met and married Helene Akouri in Windsor, Ontario, Canada on November 20th, 1955. They started their family shortly after in Detroit, Michigan. John and Helene were blessed with six children as he continued to work as a butcher and owner of Rosedale Meats, always providing for his family.
John was a quiet, religious, and very hardworking man. He retired after many, many years of dedication as a Master Butcher. He was an active member and a founder of St. Rafka Maronite Church in Livonia, as well as a member of St. Jude Organization in Detroit.
John's true loves were his family, his friends, his faith, and most of all his beautiful bride, Helene or "wifey". John could always be found reading his bible, picking weeds, telling jokes, playing Pinochle, Backgammon, or smoking cigars and pipes. He adored his grandchildren and great grandchildren, cherishing each moment he was able to share with them. John's life and legacy will continue to live on in the hearts of all of those that knew him.
The visiting hours for Mr. John Habib will be Tuesday, September 3rd, and Wednesday, September 4th, from 3 p.m. – 8 p.m. with a 7 p.m. Rosary Service during both evenings at McCabe Funeral Home, 31950 W. 12 Mile Rd., Farmington Hills. John will lie in state Thursday, September 5th, at 10 a.m. until the time of his Funeral Mass at 11 a.m. at St. Rafka Maronite Church, 32765 Lyndon Street, Livonia. His burial will follow at Holy Sepulchre Cemetery, Southfield. In lieu of flowers, John's family has requested donations be made to St. Rafka Maronite Catholic Church, Capuchin Soup Kitchen, and St. Jude Children's Hospital in his name.