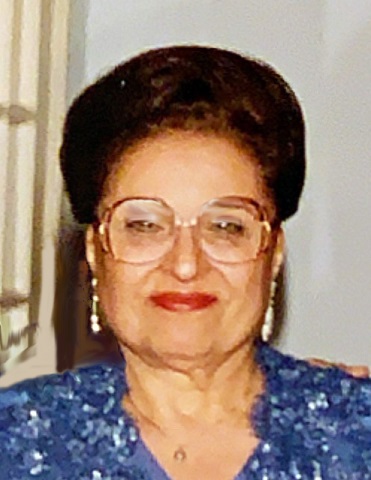 Jeanette Coury
May 15, 1933 - September 20, 2019
Jeanette Coury, of Farmington Hills, fell asleep with the Lord on September 20, 2019 at the age of 86.
Born May 15, 1933 in Tripoli, Lebanon, daughter of the beloved late Hanna and Adele Akouri. Wife of the late William Coury. Sister of the late Elias (Nadia) Akouri, Jamil (Soraya) Akouri, and Hind (Ibrahim) Takla. She leaves her son, Anthony Coury and daughter-in-law, Nini (Guidi) Coury; her brother Fouad (the late Sylvia) Akouri and sister Helene (the late John) Habib; grandchildren: Adam and Cassidy Coury, and many nieces, nephews, cousins, godchildren and beloved family and friends.
Jeanette's love for family and friends was unmeasurable. She loved to cook and feed everybody. Every Christmas she would start calling everyone she knew to donate money, food or time to make food baskets for the poor. She would make approximately 30 baskets and distribute them to needy families, what an amazing person always thinking of others before herself. She was very well known for making a pot of stuffed grape leaves, asparagus spaghetti salad, macaroni & cheese, Kentucky fried chicken and all the Lebanese sweets for the holidays. Jeanette also loved her Turkish coffee and loved to read the cups and collect money to send to the poor in Lebanon. She always loved to hear jokes and swear at everybody and throw her shoe at everyone that she loved. She was young with young and old with the old, but always welcomed everyone with an open heart and a big smile on her face. She would make everyone laugh and cared for all in her own special way.
The tradition of the food baskets will be carried on in her memory every holiday.
The visiting hours for Mrs. Jeanette Coury will be Tuesday, September 24th, from 3 p.m. – 8 p.m. with a 7 p.m. Rosary Service at McCabe Funeral Home, 31950 W. 12 Mile Rd., Farmington Hills. Jeanette will lie in state Wednesday, September 25th, at 10 a.m. until the time of her Funeral Mass at 10:30 a.m. at St. Rafka Maronite Church, 32765 Lyndon Street, Livonia. Her burial will follow at Holy Sepulchre Cemetery, Southfield.