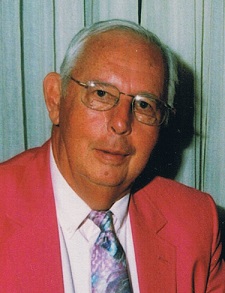 William 'Bill' Loughrey
September 12, 1929 - October 26, 2019
William Loughrey age 90 of Novi, passed away October 26, 2019.
William was the beloved husband of Alice for 59 years; devoted father of Lynn (Daniel Jr.) Wolan and Charles Loughrey; and cherished grandfather of Erin, Anna, and Teagan Loughrey.
Bill was born on September 12, 1929 in Detroit, Michigan to Garnet and Minnie Loughrey. He graduated from Redford High School and went onto attend Lawrence Technical University in Southfield before serving in the United States Army during the Korean War. In 1956, Bill met Alice Waterhouse and the two were wed in 1960. Following their nuptials, the couple was blessed with two children; Lynn and Charles. Bill went onto pursue a career in sales, retiring from Radiator Specialty after many years of dedication.
Bill enjoyed buying and selling real estate, sharing his time in Charlevoix, MI and Naples, FL. At one time, he owned a scuba and ski shop as well as a couple tree farms in Michigan. Bill's favorite times were spent skiing and traveling around the United States in his family's motor home, enjoying the beauty of the water while boating as well as the great outdoors. Bill was a family man, often planning trips for his household to appreciate and experience. His influence and love will remain in the hearts of those who knew him.
A Memorial Gathering for Mr. Loughrey will be Friday, November 1st, at 3:30 p.m. until the time of his Memorial Service at 5 p.m. at McCabe Funeral Home, 31950 W. 12 Mile Rd., Farmington Hills.