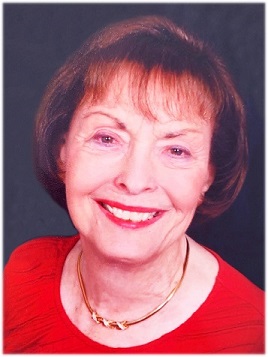 Mariellen Greenbury
November 12, 1931 - October 23, 2019
Mariellen Greenbury, a resident of Fort Myers, Florida died on Wednesday, October 23, 2019 at the age of 88. Mariellen was the loving wife of Donald Greenbury with whom she was married for 66 years.
Born on September 12, 1931 in Ironwood, Michigan, Mariellen was the eldest daughter of Cecil and Mary Alford. After moving to Lansing, Michigan, Mariellen graduated from Everett High School. She later attended Michigan State University where she received a bachelor's degree in journalism.
With a love of literature, writing and language, Mariellen taught high school English and Spanish at Thurston High School in Livonia, Michigan before becoming a journalist for the Detroit News where she worked until retiring at the age of 55.
A wonderful mother, Mariellen raised three children, Kay, Mark and Donna to whom she instilled her passion for excellence, compassionate heart, determination, the pursuit of knowledge, love of travel and devoted faith.
A lover of travel and different cultures, Mariellen journeyed with her family to six continents of the world. Knowing that there was only one left to visit, she and her husband celebrated their 50th Anniversary with a trip to Antarctica to complete the list of seven.
She loved to ski and play golf. She was grateful to have had the opportunity to play the world's best golf courses along with her equally golf loving husband, daughter (Donna) and son-in-law. A competitive person, she loved playing in golf tournaments where she would win often.
A very spiritual and charitable women, Mariellen was a devoted member of New Hope Presbyterian Church, wrote for the church newsletter and loved spending time mentoring children in the Fort Myers area.
Mariellen will be remembered for her strength, graciousness, brilliance, devotion and fun/adventurous spirit. She is survived by her husband, Donald Greenbury, children, Kay, Mark (Kathy), Donna (Daniel Pavelka), grandchildren, Dustin and Dallas (Matthew) Sullivan, sisters, Lynne Foulds (Mike) and Carol Chubb, and her little dog Foxy.
A celebration of life service was held on Monday, October 28, 2019 at New Hope Presbyterian Church 10051 Plantation Road, Fort Myers, Florida 33966.
A committal service will be held Monday, November 4, 2019 at 11:30 a.m. at Glen Eden Memorial Park, Livonia.
In lieu of flowers, the family has asked for donations to the American Heart Association and American Cancer Society.