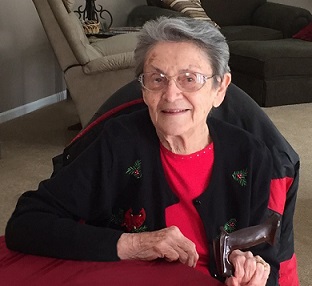 Barbara Karney
August 20, 1929 - October 30, 2019
Barbara Karney, of Farmington Hills, passed away October 30, 2019 at the age of 90. She was the loving wife of the late Nelson ('05) for 58 years; devoted mother of Kathy Kenyon, Bruce Michael Karney, Christine (Marc) Applebaum, and Mark (Ronda) Karney; cherished grandmother of Geoffrey (Jennifer) Pashley, Kirsten Murrel, and Alexis Nicole, Jon, and Elizabeth Karney; and caring great grandmother of Kieran, Liam, Elease, and Jimmy.
Barbara was born in San Antonio, Texas on August 20, 1929 to Harry and Vivian Geisler. She met Nelson Karney in high school and the two later married in 1947 after Nelson returned from serving in the war. The loving couple was then blessed with four children; Kathy, Bruce, Christine, and Mark. Barbara with her family moved from state to state – Texas, Oklahoma, and New York before finally settling in Farmington Hills, Michigan in 1968.
Barb was an amazing mother, staying home to raise her children while Nelson worked for General Motors. Later in life, Barb and Nelson continued to feed their travel bug, touring all over the country in their travel trailers. She was active; golfing, swimming, and playing cards were a few of her favorite pastimes.
Barb enjoyed the arts and would design stained glass, creating beautiful pieces of artwork. Additionally, she was a connoisseur of white wine and could be seen enjoying a glass while visiting with family. Barb was truly a wonderful woman who will be missed by all who knew her.
A Memorial Gathering for Barbara will be held Thursday, November 7th, from 4 p.m. – 8 p.m. at McCabe Funeral Home, 31950 W. 12 Mile Rd., Farmington Hills. Barbara will be laid to rest at Great Lakes National Cemetery with her husband, Nelson at a later date. In lieu of flowers, Memorial Contributions are appreciated to Heart to Heart Hospice in Barbara's name.