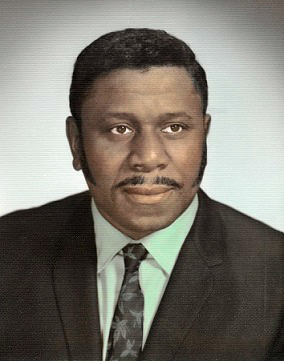 Arthur B. Davidson
December 5, 1929 - December 2, 2019
Arthur B. Davidson was born on December 5, 1929 to Arthur and Idella Davidson at Grace Hospital in Detroit, Michigan, the first of two children that the attorney and clerk would have together.
After graduating from Southeastern High School in 1948, Arthur worked briefly as a lathe operator for General Motors before joining the military and going to Germany, where he served as a private in the United States Army for two years.
After returning to the states, he began a long, fruitful career working for the city of Detroit in a number of different capacities. He took his first job with the city as a bus driver in the Department of Streets and Railways in 1951 before going on to become a public health educator, a community services assistant, an assistant director in the Neighborhood Services Department, and eventually the deputy director of the Human Services Department. In 2001, Arthur would be honored by then-Detroit mayor Dennis Archer for completing a 50-year career with the city.
In the midst of that distinguished stint, Arthur acquired two post-secondary degrees: a bachelor's in both History and English from the Detroit Institute of Technology in January 1964, and a master's in Public Administration from Wayne State University in December 1970. On the latter of those degrees, an inscription denotes that Arthur carried a perfect 4.0 grade-point average, fitting for a studious, well-read man who prided himself on being informed. He saved countless press clippings from newspapers each week, and even set his DVR to record the evening news. At times, he would fall asleep to the sound of news anchors discussing world events on his transistor radio at night.
Yet for how measured Arthur could be, he had an understated sense of humor that could win over just about anyone. And he encountered a woman who often brought out that more playful, excitable side in him in 1979, when he began courting Edith Douglas. Three years later, on August 14, 1982, Rev. John W. Peoples would marry the couple at Calvary Baptist Church.
Arthur thoroughly enjoyed to travel, particularly on cruises for weeks at a time with Edith. But he was also a meticulous saver, reveling in the moments when he could find coupons to put to good use. He often turned around and used those savings to donate to food shelters, different veteran groups and the United Negro College Fund, among others. Even as he aged, he often drove into the city to bring meals and bottles of Coke to elderly residents who were homebound.
When it came to his own eating, Arthur loved breakfast: Bacon, sausage, grits, fried egg and fried onions. He also lived for trips to restaurants, especially Famous Dave's for barbecue, and Bonefish Grill for the lobster special. On the occasions that he would go out to eat, Arthur would often do something unusual. He would order and eat his dessert first, feeling he deserved it.
In a nutshell, that epitomized who Arthur was: A good, caring, hard-working man who had done more than enough to take in the little joys in life -- like those desserts, or his deep love for the animal-based programming on National Geographic -- however surprising they might be.
Arthur entered into the arms of the Lord on December 2, 2019, when he joined his parents, his brother Andrew B. Davidson, his sister Muriel J. Strong and his niece Marsha Herring, all of whom preceded him in death.
He is survived by his loving wife, Edith Davidson; his nieces, Michelle Church, Chanika Colbert, and Kiara Herring; his nephew, Christopher Herring; his longtime friend, Patricia Towles; his goddaughter, Clarice Hence; along with a host of other nieces, nephews, family and friends.
Mr. Davidson's family will receive friends Wednesday, December 11th, at 10:30 a.m. until the time of his Memorial Service ar 11:00 a.m. at McCabe Funeral Home, 31950 W. 12 Mile Rd., Farmington Hills. Arthur will be laid to rest at Great Lakes National Cemetery, Holly at a later date. In lieu of flowers, Memorial Contributions are appreciated to Prostate Cancer Research in his name.