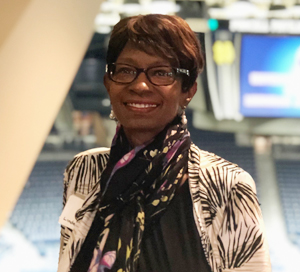 Linda A. Myers
November 8, 1959 - December 8, 2019


Linda Arlene Dobbins was born on November 8, 1959 in Cincinnati, Ohio to the late Anderson Levi Dobbins and LaVerne Dobbins. She is the second of seven children to come from this union.
As early as the first grade, Linda showed signs of academic achievement and was recognized by teachers for her aptitude. She was always focused on her studies, her family, and the needs of others. As an older sibling, she was a role model and was instrumental in helping to raise her siblings. In her youth, she enjoyed puzzles, reading, and boardgames; all of which are hobbies that continued into adulthood.
Linda attended Walnut Hills High School and continued her education at The Ohio State University in 1978. She received a Bachelor of Science in Physical Therapy, and it was there that she met her husband, Roderick Myers. The two wed on June 11, 1983, and from this union they were blessed with their daughter, Erin Myers, in 1995.
Linda lived and established her career in the greater Detroit area. She loved her practice and her patients dearly. Linda was someone that could relate to anyone she met. She had a certain spirit and confidence that was always so inviting and because of that she formed lifelong bonds with the people that she met. Linda always gave her best. She was a devoted mother who invested many hours at the kitchen table helping Erin become an exceptional student and young woman. She was a confidant, a best friend, a motivator, a sister, a wife, and a mother.
Linda worked as a physical therapist for 34 years; she retired from Huron Valley Sinai Hospital as a site lead upon the advancement of her cancer. In her retirement, she worked to better herself and achieve her life goals. Linda traveled more; she loved visiting Columbus and watching her Ohio State Buckeyes dominate the football field. She spent more time traveling to see her family and taking vacations to create memories and to see the world. Linda was a philanthropist; she was involved at Brightmoor Christian Church where she volunteered in the homeless outreach ministry. She spent her time at South Oakland Shelter where she helped combat poverty in her local community through even the simplest efforts. She would frequently help transport patrons, help plant and maintain their garden, and work on organizing the donated clothes. She was able to continue to pursue her passions and maintain her loving relationships with her close friends and work family. Linda used this time to grow in her faith and in herself. She enjoyed every day that the Lord gave her and never took life for granted!
Linda received her wings early in the morning of Sunday, December 8, 2019. Her body will be laid to rest in Cincinnati, Ohio at Spring Grove Cemetery. She is survived by her husband, Roderick Myers; her daughter, Erin Myers; her mother, LaVerne Dobbins; two sisters, Karen Dobbins and Angela Dobbins Dyer (Carl); three brothers, Anderson Dobbins, Jr. (Desiree), Rodney Dobbins (Gladys), and Clinton Dobbins; one sister-in-law, Gwen Myers, and a host of nieces, nephews, relatives, and friends.