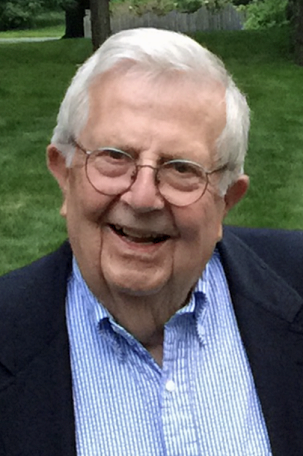 William Dreger
June 6, 1925 - January 7, 2020
William "Bill" Dreger, age 94, passed away Tuesday, January 7, 2020. He was the loving husband of Vera for 69 years; beloved father of Mark (Nadine) Dreger, Gary Dreger, and Debbie (Bruce) George; cherished grandfather of Christopher George, Brittany George, and Michael Dreger; and uncle of Kerry (Debbie) Wade. He is predeceased by his sister, Ruth Wade, and his nephews, Wyn and Monte Wade.

Bill was a decorated veteran of the United States Army, proudly enlisted as soon as he turned 18, and served in Europe during the Second World War. He spent a decades long career as an automotive engineer in his home city of Detroit, and he proudly earned his MBA at the University of Detroit.
Around the home he adored, Bill was a meticulous handyman and landscaper. He was passionate about shooting pool and trying to shoot the moon at hearts, amongst many other games he frequently enjoyed with family and friends. He loved taking regular trips to Traverse City, cruising, listening to country music, watching the ball game while relaxing with his dog Bentley, and staying up late to watch movies, particularly the films of Chevy Chase and Peter Sellers.
Bill was a caring and generous friend and found great joy in others' happiness. Most of all, Bill treasured his wife and family and always ended their phone calls with, "I love you more today than yesterday."

The family will receive friends Saturday, January 11th, from 10:30 a.m. until his funeral service at 11 a.m. at McCabe Funeral Home, 31950 W. Twelve Mile, Farmington Hills. Interment will be in Glen Eden Memorial Park, Livonia. In lieu of flowers the family is asking for contributions to Cross of Christ Lutheran Church, 1100 Lone Pine Road, Bloomfield Hills or to Disabled American Veterans, at HelpDAV.org.