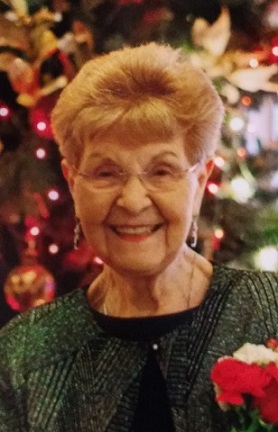 Mary J. Pontello
December 19, 1928 - January 29, 2020
Mrs. Mary Jean Pontello passed away on Wednesday, January 29, 2020 at the Regency at Canton. She was born December 19, 1928 in Chicago, Illinois a daughter of Samuel Lester and Jean Lucille (nee, Eldred) Ragan.
Mary was a 52-year resident of Ypsilanti before moving to Canton a couple of years ago. She was a faithful member of St. John the Baptist Catholic Church. Mary enjoyed traveling, movies and reading. Prior to her retirement in 1992 Mary was a Registered Nurse at General Motors.
Mary was the loving mother of 5 children: Jean (Gregory) Gliha, Joseph (Maureen) Pontello, Timothy Pontello, Patricia (Brian) Jaeger and Frank Pontello. Special grandmother of 7 grandchildren and 3 great grandchildren. She was preceded in death by 2 sisters and one brother.
Visitation will be held on Monday, February 3, 2020 from 3 – 8 P.M. with a rosary service at 7:00 P.M. at the McCabe Funeral Home, 851 N. Canton Center Rd., Canton (734-981-4530). Mary will lie instate on Tuesday, February 4, 2020 from 10:30 A.M. until the time of her funeral liturgy at 11:00 A.M. at St. John the Baptist Church, 411 Florence, Ypsilanti, Michigan.
Those who wish to remember Mary with a memorial donation are asked to consider Ave Maria Radio, P.O. Box 504, Ann Arbor, MI 48106-0504.