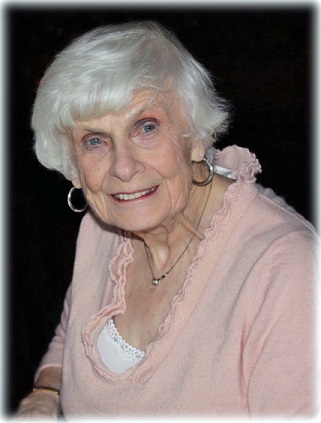 Janet M. Johnson
May 15, 1925 - February 10, 2020
Janet Mary Johnson, 94, of Novi, Michigan, died peacefully at home at Fox Run Senior Living Facility on February 10, 2020.
Born in Elmira, New York in 1925, Janet was the oldest child of Earl Nonenmacher and Katherine (Knapp) Nonenmacher. Janet grew up in Buffalo, New York, graduating from Kenmore High School in 1943; she attended Miami University in Oxford, Ohio majoring in business, and became a member of Alpha Omicron Pi sorority; while at Miami, she met her future husband, William Arthur Johnson from Harrisville, Michigan. They married in 1946 in Buffalo, and then lived in Ann Arbor, Michigan where she worked as a bookkeeper and took classes at the University of Michigan, while he attended medical school. After her husband's residency in Grand Rapids, the couple moved to New Orleans and then to San Diego, where Bill was stationed in the Navy. Their first child, Jill, was born in 1950. They settled in North Vernon, Indiana in 1952, where Dr. Johnson opened a medical practice. They had three more children, Julie, Todd and Jennifer and became very involved in the local community, including as members of the Methodist Church and in state and local politics.
Janet was always proud to be a homemaker and mother. She also volunteered and provided leadership for numerous charitable community causes, and served on many boards of directors, including Girl Scouts, United Way, Ivy Tech, and Psi Iota Xi Sorority, among others. She even held a pilot's license! In 1975, Janet moved to Columbus, Indiana where she worked for Irwin Union Bank and was a volunteer guide for the city's bus tour of modern architecture.
In 1978, Janet relocated to Michigan to take a job as the office manager of the Detroit law firm Dice, Sweeney, Sullivan and Feikens. In Michigan, as in Indiana, she was active in the Methodist church and many community activities. After retiring, she became a volunteer for SCORE (Service Corps of Retired Executives) in the Detroit office. In 2010, Janet moved to a retirement community in Novi, Michigan where she was an active and involved resident and became a member of Orchard United Methodist Church in Farmington Hills.
Janet loved to travel, especially to visit family and friends across the country and throughout the world. Her many trips included: China with her son Todd, several trips to Europe (including visits to France, Spain, Italy, Norway, Denmark, the Netherlands, England, Germany, and Greece), Canada, Australia, and twice to New Zealand to visit her daughter Jill. She traveled often in the U.S., from Boston to California, visiting nearly every state during her lifetime. Until recently, she spent nearly every Christmas with her family skiing in Breckenridge, Colorado.
Janet made friends easily and everywhere. One of her life's happiest moments was her 80th birthday party, when over 100 people, family and friends from across the country—including neighbors, church and work colleagues, and even members of her exercise class—came to celebrate with her.
While her children, grand and great-grandchildren, were the pride of her life, she was also very proud that she helped to build two churches, as the treasurer of the United Methodist Church in North Vernon, Indiana, and then as the treasurer of the Grosse Pointe United Methodist Church.
Janet will be missed by friends and family for her energy, curiosity and optimistic view of life, never turning down a chance to meet new people, go to new places or learn new things. "Now, isn't that interesting?" Janet would often exclaim, when sharing her latest discovery or experience.
Janet is survived by her four children and their spouses, Jill Johnson and Howard Tuffery, New Zealand; Julie Johnson and Frank Smizik, Brookline, MA; Todd Johnson and Jennifer Hess, Silver Spring, MD; and Jennifer Johnson Kipper and Matthew Kipper, Detroit, MI; her brother and sister-in-law, Robert and Bernie Nonenmacher, Oneonta, NY; ten grandchildren, Amy (Bridges) Wagstaff, Andrew Bridges; Emma Smizik, Hallie Smizik Dubin; Milo and Gillan Johnson; Daniel, Patrick, Nick and Megan Kipper; and seven great-grandchildren, Isabel, Jackson and Emily Wagstaff; William, Theodore and Charlotte Boardman; and Benjamin Dubin.
A memorial service for Janet will be held in the spring.
In lieu of flowers, donations can be made to the Orchard United Methodist Church (30450 Farmington Road, Farmington Hills, MI 48334) or to Planned Parenthood of America (www.weareplannedparenthood.org).
Written condolences for the family can be sent to her son, Todd Johnson, 1910 Luzerne Avenue, Silver Spring, MD 20910.