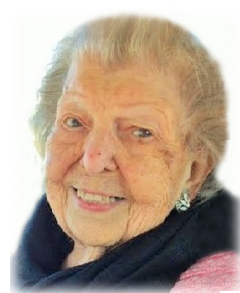 Harriet A. Wilson
February 25, 1919 - February 12, 2020
Harriet A. Wilson, age 100, passed away February 12, 2020. She was born on February 25, 1919 in Detroit, Michigan to Frederick and Agnes Stein.
Harriet was the definition of a strong woman and complaining of any sort was simply not in her nature. Her lack of fussing even found her family in some serious situations, ones that could only be resolved by investigating when Harriet just didn't sound quite like herself. Family was Harriet's number one priority. The care and devotion she gave to them will always be remembered with a smile.
With Harriet being such a humble person, she preferred attention to be given to those around her. She volunteered often at the hospital near her home and was always willing to help those in need. It was what Harriet had always done, as she found herself taking on responsibilities at a young age, helping her mother with health her troubles, as well as helping her grandparents. Household chores fell upon Harriet so often that she proclaimed the greatest invention in her almost 101 years of living was undoubtedly the washing machine.
Even in Harriet's free time, she wanted to make the world a nicer place. She was very proud to be a longtime member of the Order of the Eastern Star and enjoyed the company of her fellow members. Harriet also enjoyed knitting and was fortunate enough to be able to enjoy her hobby for most of her life.
Harriet left many wonderful memories for her family to cherish and she will be dearly missed by all who loved her. Her life was dedicated to caring for and helping those she loved the most, and what a beautiful legacy to leave.
Harriet was the beloved wife of the late Owen Wilson. Cherished mother of Charlene (Mike) Wilson, Rochelle (William) Alexander and Denise (Robert) Hendricks. Loving grandmother of Michael Wilson and Lindsay Morse and great-grandmother of Charlie Morse. Dear sister of the late Roland (the late Phyllis) Stein. Cousin of Gerald Taube. Aunt of Alan Stein and the late Gordon Stein. Step-grandmother of Haley Hendricks and Heather Zane. Dearest friend of Ethel Johns. Harriet is also survived by her grandpets Maxine, Mickey and Nicky.
Arrangements have been entrusted to McCabe Funeral Home, Farmington Hills.