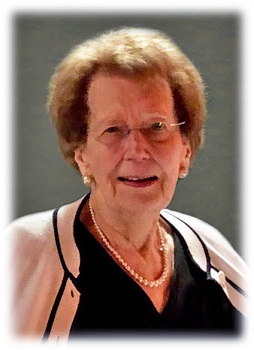 Jeannette Tiberio
November 2, 1929 - February 24, 2020
Jeannette Terpstra Tiberio, of Farmington Hills, passed away on February 24, 2020 at the age of 90.
Jeannette was born on November 2, 1929 in Rochester, NY to the late Anna and William Terpstra. She graduated from Rochester's East High School in 1948 and then attended Rochester Business School. She was first employed in the payroll department of E.P. Reed Shoe Co., and then in the Cost Estimation Department of the Rochester Products Division of General Motors, where she met her husband of 66 years, Gabriel.
Jeannette loved volunteering her time to the community and did so often and in a variety of ways. But above all else, she was devoutly religious and was a dedicated and enthusiastic member of Ward Presbyterian Church. There she served on the Executive Board as a Deacon, where she especially enjoyed helping with communion and baptism celebrations as a Church Life chairperson, and as a long-time member of the Chancel Choir.
Jeannette's other activities through the years were varied and included two terms as President of the North Farmington Garden Club, which awarded her a Lifetime Membership Award for outstanding contributions; involvement in the Girl Scouts; and participation as a 40-year member of a local bowling team.
Jeannette was a loving wife and devoted mother who is survived by her husband Gabriel; her children Suanne Tiberio Trimmer (Kevin) of Charleston, SC and Steven J. Tiberio of Lake Orion; grandchildren Daniel S. Trimmer (Christy) of Charlotte, NC, David A. Trimmer (Bridget) of Boston, MA, Matthew and Adam Tiberio of Lake Orion and Jerald S. Harris of San Diego, CA; great-grandchildren Graham and Caroline Trimmer of Charlotte, NC; and Elizabeth K. Tiberio of Foster City, Michigan.
Memorial gathering for Jeannette will take place on Friday, July 17th, 2020, at 10:00 a.m., until the time of her Memorial Service at 11:00 a.m. at Ward Presbyterian Church, 40000 Six Mile Road, Northville, Michigan 48168.
Memorial Contributions may be made in Jeannette's name to Ward Presbyterian Church, Attention - Deacon's Fund, 40000 Six Mile Road, Northville, Michigan 48168 or the Michigan Humane Society, 30300 Telegraph Road, Ste. 220, Bingham Farms, Michigan 48025.