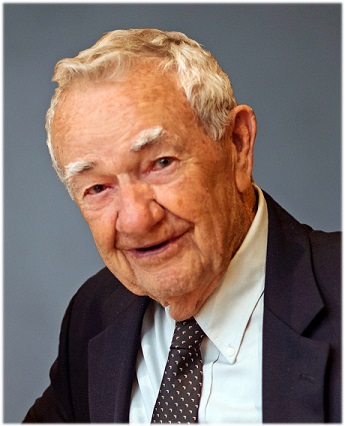 Hugh F. Caverly
November 9, 1927 - March 6, 2020
Hugh Francis Caverly of Farmington Hills, Michigan, passed away on March 6, 2020, at his snowbird getaway in Punta Gorda, Florida, attended by his loving children.
Hugh was born in Detroit, Michigan, on November 9, 1927, the oldest of the nine children of Lawrence Franklin and Theresa Ann Caverly. Hugh attended Redford Union High School, after which he worked in construction.
Hugh was preceded in death by his beloved wife of 67 years, Emmerence "Emmy" (Schmidt) Caverly. They were married on January 19, 1952 and raised their family of seven children in Southfield and later Farmington Hills. Hugh enjoyed ferrying his children to swim meets, baseball games and school activities. The family took long driving vacations, including to the Rockies, Blue Ridge and Smokey Mountains, Florida and up on Lake Michigan, creating memories treasured by their children. Hugh's 19 grandchildren will remember him for his sense of humor and the boxes of sugary donuts he picked up early for breakfast.
Hugh's primary devotion in life was his wife Emmy. He was a faithful provider and built a successful contracting business in the 1970s. Hugh gave Emmy free rein to plan changes to the family home, an addition here, a wall to take out there, and he readily went along with whatever Emmy thought best. They enjoyed traveling with friends to Europe, New Zealand and Australia, and cruises down the Danube, through the Panama Canal and along the coast of Alaska. His continuing affection was evident in the care he took of Emmy as her health declined in the last years of her life, and after her death Hugh's children often heard him quietly singing songs to his departed wife.
Anyone who knew Hugh for even a short time saw that he liked a cigar. Not to smoke – at least not after Emmy banned the blue smoke of "those stinky cigars" from the house and family station wagon. Instead, Hugh held his unlit stogies clamped between his teeth, enjoying the flavor of the moist tobacco as he drove his pickup or golf cart or riding lawn mower, a golf cap pushed back on his forehead.
Hugh possessed a strong Catholic faith and served for many years as a Knight of Columbus. He was generous with his time, always ready to lend a helping hand, whether by delivering meals for the less fortunate to St. Christine's and the Capuchins in downtown Detroit, or driving a friend to a doctor's appointment.
Hugh enjoyed recreational games his entire life. He bowled at Norwest Lanes and played softball and hockey into his 40s. He enjoyed gin rummy, pinochle, hearts and other card games, and landed many a ringer at horseshoes; and later enjoyed bocce ball with friends in Punta Gorda.
By their early 50s, Hugh and Emmy, with a large group of friends, had taken up golf, and for the rest of his life it remained Hugh's favorite pastime. He had a double knee replacement at age 83 chiefly (his family believed) so he could continue to swing a club, making it back on the links in 6 weeks. He plunked a hole-in-one at age 91, and enjoyed his final 18 holes less than 3 weeks before his death.
Always a ready golfer, while others took their time addressing the ball, Hugh, forever a fidgeter, would poke around in the tall grasses of the rough where he found golf balls lost by prior owners. A lot of golf balls. His children calculate the number to be in the thousands. He loved to give them away to friends, only wanting to know how many they wanted.
While Hugh greatly enjoyed golf and his other pastimes, his real delight came from the camaraderie of the game, the good times shared with friends, and the never-ending teasing, pranks and good-natured banter of a group of buddies off the clock.
Hugh is survived by his 7 children, Richard F. Caverly, Mary Sue (Roger) Berry, Michael D. (Linda) Caverly, Joseph L. (Dianne) Caverly, Edward L. (Mary) Caverly, Patricia Jean "Patsy" (Thomas) Wilson, and William T. (Angie) Caverly; 19 grandchildren, Doug, Jim (Diana), Tricia, Laura (Walt), Stephen, Dean (Kelsey), Lizzie, Gretchen (Forest), Matt, Emma, Richard, Nick (Maria), Jordan, Christopher (Paula), Audrey, Alex, Jillian, Lauren and Colin; and his dear sisters Ruth Ann Carroll and Nancy Marie Belardinelli.
Hugh was preceded in death by his brothers Larry James Caverly, Richard Allen Caverly, Thomas Patrick Caverly, Michael Kenneth Caverly, James Vincent Caverly and Daniel Gary Caverly.
Visitation for Mr. Caverly will be held on Thursday, March 12th, from 4:00 p.m. until 8:00 p.m. with a 7:00 p.m. Scripture Service at McCabe Funeral Home, 31950 W. 12 Mile Rd., Farmington Hills. He will lie in state on Friday, March 13th, from 9:30 a.m. until the time of his Funeral Mass at 10:30 a.m. at St. Fabian Catholic Church, 32200 W. 12 Mile Rd., Farmington Hills. Following the Funeral Mass, a luncheon in Hugh's honor will be provided at the church. Burial will follow in Holy Sepulchre Cemetery, Southfield.
In lieu of flowers, donations are appreciated to Angel's Place, 29299 Franklin Rd., Suite 2, Southfield, MI 48034.