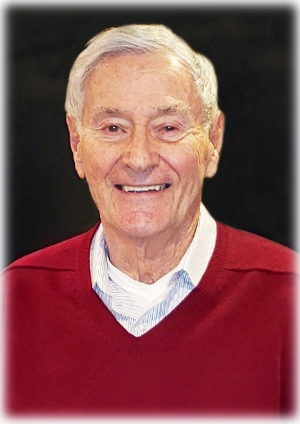 James Cikalo
June 8, 1935 - March 9, 2020
James Cikalo passed away March 9, 2020 at the age of 84.
Jim was born on June 8, 1935 in Lincoln Park, Michigan. He was the 11th and youngest child of John and Mary (nee Diacon) Cikalo, growing up in a humble home where the family grew vegetables and raised honeybees. Following his father's death in 1952, 17-year-old Jim enlisted in the U.S. Air Force to serve his country during the Korean War. The Air Force set the course for Jim's future.
In Tokyo, Japan, Jim worked in Air Traffic Control through the end of the Korean War. Jim was in the Air Force for eight and a half years, finishing his service at Wurtsmith Air Force Base in Oscoda, Michigan. Jim played for his squadron's baseball team, earning the nickname "Kaline" after hitting a home run that flattened the baseball.
Jim met the love of his life, Fran, at the beach in East Tawas, MI. He married Fran (nee Gejoff) in 1958, 62 years ago.
Jim worked as an Air Traffic Controller with the Federal Aviation Agency, finishing his career at Pontiac International Airport Control Tower, for which he worked for 20 years. He was commended for saving the life of a pilot that was lost in the fog and was safely guided down to the runway and ran out of gas trying to taxi in. Jim was a patient and excellent trainer of many young air controllers who credit him with their career. Jim elevated himself by lifting those around him.
Jim and Fran resided in West Bloomfield where he was active with the kid's Little League, scouting, fishing, boating, and golf. At age 50, Jim retired to help Fran grow her Mary Kay career. This afforded them the opportunity to travel the world and meet some of their dearest lifelong friends.
Jim was a Patriot who loved his country. Every year he planted a garden to enjoy. Jim loved air shows, country music and his grand dogs.
Jim is survived by his wife of 62 years, Fran; his children, Jimmie (Debbie), Marianne Cikalo Riley, and Robbie (Dale); his grandchildren, Steven and John Riley, Rob, Alex, and Joe Marshall; and 5 great grandchildren.
Jim's family will recieve friends on Thursday, March 12th, from 2 p.m. - 8 p.m. with a 7 p.m. Prayer Service at McCabe Funeral Home, 31950 W. 12 Mile Rd., Farmington Hills. He will lie in state Friday, March 13th, at 10 a.m. until the time of his Funeral Liturgy at 10:30 a.m. at St. Clement Ohridski Eastern Orthodox Church, 19600 Ford Rd., Dearborn. His burial will be at Rural Hill Cemetery, Northville. In lieu of flowers, Memorial Contributions may be made to St. Clement Ohridski Eastern Orthodox Church in Jim's name.