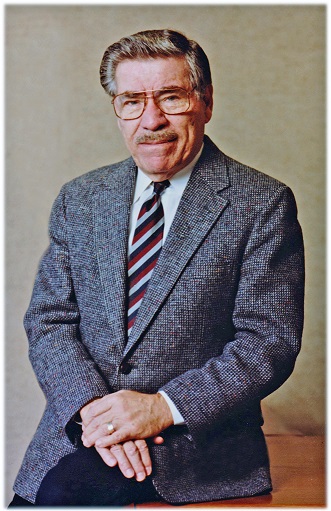 Calvin Lippitt
May 6, 1924 - March 21, 2020
Calvin J. Lippitt, age 95, passed away March 21, 2020.
Calvin was the beloved husband of late Roberta Myers. Loving father of Michael and Robert. Dear grandfather of Jeremy. He was predeceased by his parents Irving and Minnie, twin brother Alvin, and sisters Sharon and Helen.
Calvin graduated from Central High School in Detroit, Michigan in 1942. In 1949, he graduated with a Bachelor of Science degree from the University of Michigan. He was a Corporal and weather specialist in the U.S. Airforce from 1943 to 1946. Calvin worked as a salesman for paper, coffee, and finally health insurance, along with completing coursework in Public Relations, Health Education and Newswriting at Wayne State University and the University of Michigan.
Mr. Lippitt was a pioneer in Health Insurance, Health Markets and Health Maintenance Organizations. He was heavily involved with the Group Health Services Association, a Credit Union health plan from 1957 to 1960 and was a Member Representative of Community Health Association from 1960 to 1970. He also acted as the Administrator/Planner of Detroit Model Neighborhood and provided comprehensive health care to Detroit neighborhoods from 1970 to 1972.
Calvin has been a dedicated member of numerous organizations including the American Public Health Association, Michigan Public Health Association, Citizens for Better Care In Nursing Homes, Group Health Association of America, HMO Consultant to Detroit Department of Health, Education & Welfare, Chairman for South Oakland Citizens Advisory Committee, Michigan Welfare League, Director of Community Health Planning in the Department of Community & Family Medicine in the Wayne State University School Of Medicine as well as an Adjunct Faculty member with Wayne State University Medical School. Calvin also served in the Department of Community Medicine from 1972 to 1974, CEO Group Health Plan of Southeast Michigan HMO from 1979 to 1985, CEO SelectCare HMO from 1985 to 1990 and HMO Consultant from 1990 to 2000. He was the first Vice President of Oakland County Alliance for the Mentally Ill, a member of National Alliance for the Mentally Ill – NAMI, Oakland County Council for Children & Adults with Psychiatric Disabilities – OCAP and OCAP Board member from 1995 to 2002.
In 2000, Calvin founded The Michigan Consumer Evaluation Team – MCET and under his direction MCET was established. This organization is a consumer driven monitoring team, surveying other consumers about the access, availability and quality of mental health supports and services. The information they gather is forwarded on to service providers as a way of continuous quality improvement in the mental health system in Michigan.
Mr. Lippitt was a Board Member with Oakland County Community Mental Health and Easter Seals. He worked tirelessly for "Universal Healthcare", calling it "single payer" in the 1990's, through many organizations including state and federal government…An unrealized dream.
Private Services for Mr. Lippitt have been held.

Please make charitable contributions to the National Alliance for the Mentally Ill, Easter Seals, Southern Poverty Law Center, Planned Parenthood, Judicial Watch, Detroit Public TV, UNICEF, Jewish Hospice & Chaplaincy Network, The Detroit Zoo, and NARSAD Brain Research Foundation