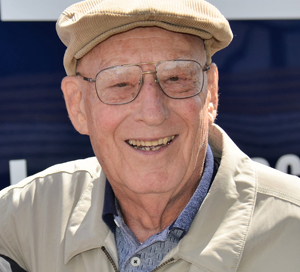 Lawrence J. Rathgeb
February 12, 1930 - March 22, 2020


In what would seem for most mere mortals a cruel irony, Lawrence James Rathgeb, a truly larger-than-life legend of a man, was robbed of life by a mindless, microscopic virus, COVID-19, that has invaded our world with devastating consequences.
Larry Rathgeb lived a charmed but precarious life, serving as the chief mechanic, and an honor guard member for the renowned General Douglas McArthur during the Allied occupation of Japan. After those post-war years, he became one of the most influential and most respected figures in the competitive sport of NASCAR auto racing. Larry was a risk-taker, an adventurer; some might have called him a swashbuckler.
Born in Harrison, New York, on February 12, 1930, Larry would go on to be chosen president of his sophomore class council—just a hint of the many achievements he would amass throughout his daring 90 years.
He was raised during the Great Depression and World War Two, and was unapologetic of the views and values that were instilled in him during that time. While shy of the age required to serve in the war, he could certainly be counted as a member of 'The Greatest Generation".
Following his June 1948 graduation from high school in New Rochelle, New York, Larry joined the Army where, thanks to his love of cars and his exceptional mechanical aptitude, he was selected to serve as personal mechanic for General Douglas McArthur, who oversaw the war in Korea, while supervising the Allied occupation of post-war Japan. While in Japan, he gained a love of photography that endured throughout his life, and he documented his many travels and adventures while there.
Back in the States, Larry had an accident which left him with a serious brain injury. He was forced to relearn how to walk and talk, which was an example of the unwavering determination he displayed thru-out his life.
Once recovered, Larry met Phyllis Ann Setzer. Their first date was a trip to the theater to watch The Glenn Miller Story. The couple clicked and were married at Saint Francis Xavier Church in the Bronx, New York, on June 26, 1954. They went on to raise four children: Sue, Jeff, Jerry, and Pam.
He was trained in all facets of engineering at the Missouri Schools of Mines and became a Professional Engineer through his training at the Chrysler Institute.
Larry was a devoted family man, but his family knew and appreciated his equal devotion to his automotive obsession. Only an obsessed enthusiast could have accomplished the feats Larry Rathgeb achieved. Larry was inducted into the Mopar Collector's Guide Hall of Fame in 2012, largely for his work as the lead engineer for racing development on the Dodge Charger Daytona.
The man was a visionary; he was among the first to comprehend that aerodynamics were every bit as important as raw horsepower for successful auto racing. He was the driving force behind the iconic Dodge Chargers of the 1970s, with the odd-looking, wind-beating nose cones and huge down-force wings. Those unusual rocket-shaped cars brought Chrysler to NASCAR dominance throughout that era. Larry did not lead the charge to dominance for personal glory; he did it simply for his love of cars and racing.
His competitive nature led him to create the Chrysler Kit Car to allow Chrysler enthusiasts to compete in short track racing successfully. He led the team that created high performance specialty pace cars for the PPG Indy car racing series, and his later work with Chrysler on the Viper program added US Patents to his many accomplishments.
Upon retirement, Larry spent most of his time farming at his beloved property in White Cloud, Michigan, and excelling at his hobby of trap shooting and hunting.
Larry was focused, but he also was remarkably carefree. One friend tells of an occasion when—as they barreled down the highway, Larry telling a joke as he drove—they found themselves headed the wrong direction on an onramp. Hardly blinking, Larry deftly spun his car around through oncoming traffic and returned to the proper lane—never missing a beat in transmitting his entertaining tale to his panicked passengers.
Larry was a supportive and generous friend and mentor. While developing his Kit Car, he hired Dale Earnhardt for a test run. Following the test, Dale lamented to Larry about his lack of success as a race driver and was contemplating giving up. Larry encouraged him to stick with it, telling him he had a true talent, and the rest is history.
Despite working and playing alongside notable figures as Richard Petty, Mario Andretti, Dale Earnhardt, Paul Newman, and the above-mentioned General Douglas MacArthur, Larry Rathgeb never thought of himself as a celebrity. He was just a hard-working, fun-loving everyman with a boisterous always ready laugh, who enjoyed his family, his hunting and shooting trips, and his often-groundbreaking career in auto racing.
Perhaps it was fitting that, at age 90, a noxious microscopic virus halted this man's extraordinary life; nothing else could have slowed this humble legend.
Lawrence J. Rathgeb passed away March 22, 2020. Cherishing his memory, he is survived by his beloved wife of 65 years, Phyllis. His loving children Sue Ann, Jeffrey (Marcia), Jerrold and Pamela. Dear granddaughter Amanda (Scott) Knight and great-grandchildren Zachary Bennett and Makayla Knight.
A Memorial gathering for Mr. Rathgeb will be held on Sunday, October 25th, from 1:00 p.m. until 6:00 p.m. at McCabe Funeral Home, 31950 W. 12 Mile Rd., Farmington Hills. He will be interred on Monday, October 26, 2020, with full military honors at the Great Lakes National Cemetery in Holly, Michigan.