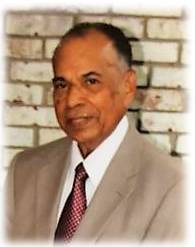 Dr. K.M. George
August 8, 1924 - April 23, 2020
Dr. Kochuparampil Mammen "K.M." George, PhD, age 95 of Farmington Hills, passed away April 23, 2020.
To many he was Dr. George, to others he was the kind man from India with the amazing stories of travel. As a child and young man, he was influenced by his meeting Mahatma Gandhi and was always a proponent of peace and learning. He was a wicked tennis player who played against Leonard Bergline at the all England club. He tutored Coach Rupp's players and was proud in his 80's to wear his BBN hat in the heart of Indiana. He loved traveling the world and was always a man of faith and family.
During WWII, Dr. K.M. George was in the British Indian Navy, where he served until the end of the war. He then worked in the Persian Gulf serving with the oil companies of the time. Later, he trekked up the Mediterranean to England where he eagerly accepted an opportunity to study in London and then in the United States. He was offered and accepted a scholarship at Blackburn College in Illinois and then was accepted into a dual master's program at the University of Kentucky, where he was to subsequently earn his PhD in Sociology. He was a highly respected professor and was honored to be of service to Alice Lloyd College.
A descendant of the converts of the disciple of Christ (Thomas), Dr. George was a staunch believer but not a fanatic. He was a member of the Kumbanad Family in what was the Princely state of Travancore, now the Indian state of Kerala. He was quietly one of the first of the family to reach significant achievement in the USA, but as was his custom, to do so with little fanfare. A former member of ODK, and the Kiwanis Club, he was civically minded and routinely an active member and or leader within the churches he would attend. In his later years, he became a member of the Detroit Mar Thoma Church in Southfield, Michigan in 2016.
He was a devoted teacher, advocate, friend, husband, and father. He left the world better than he found it and felt we all had a higher calling.
Dr. George was the beloved husband of Annamma 'Molly' George for 55 years. Cherished father of Ivan Mammen George. Loving grandfather of Jonathan Andrew Mammen George and Joshua Aaron Mammen George (Dr. Sierra George). Dear brother of Aleyamma Mathai. He is also survived by many nieces, nephews and extended family members and friends in Michigan and around the world.
Visitation for Dr. George will be held on Sunday, April 26th from 5:00 p.m. until 7:00 p.m. at McCabe Funeral Home, 31950 W. 12 Mile Rd., Farmington Hills. His Funeral Service will be held on Monday, April 27th at 10:00 a.m. at the funeral home. Interment will follow in Glen Eden Memorial Park, Livonia.