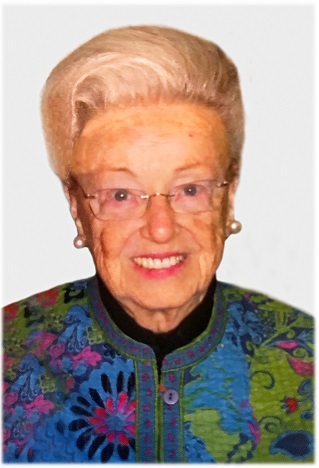 Constance Carruthers
August 20, 1929 - April 29, 2020
Constance "Connie" Carruthers was born in Detroit, MI on August 20, 1929 to Frank and Constance "Gutsy" Carruthers. She passed away peacefully on April 29th, 2020.
She was born and raised in Detroit, and at the age of 17 began a career at Cadillac Motor Company, where she eventually worked her way up to a management position in the marketing department. She was in charge of Cadillac's sponsorship of the Master's golf tournament for many years, a position she dearly loved. After having a wonderful career at Cadillac, a mere 41 years later, she finally retired. She always loved to drive her big beautiful new Cadillacs.
Connie was always immaculately dressed, with perfectly coifed hair, a determined self- made woman. She was a classy lady in every sense of the word. Aunt Connie was first and foremost a woman who loved her family and her faith. She was a very devout Catholic, attending mass every day, and always arriving early to ensure enough time to pray for our family, becoming a Eucharistic minister, tending to church finances, serving funeral luncheons and ready to help at the drop of a hat. That's probably why she was trusted with the keys to church.
She was the best Aunt anyone could ever ask for. She was full of love for everyone, as evidenced by her presence at every possible celebration of every niece and nephews, and great nieces and nephews; starting with baptisms (Godmother to many), birthday parties, first communions, confirmations, sporting events, graduations, holidays, family reunions, weddings, and the list goes on. She also never forgot to send a card or present to each niece and nephew for every holiday, birthday and especially at Christmas. Her Christmas trees were adorned with ornaments from her many travels, and the family Christmas dinners are a treasured memory for each and every one of us.
She thoroughly enjoyed life; she was a world traveler for most of her lifetime, having visited numerous countries around the world, always retuning with gifts for the nieces and nephews, and she could regale about her travels till the end. As the years went on, and she got a little older, she loved to go on cruises, and stay at the Grand Hotel on Mackinac Island. She loved sports, especially football and golf, and truly looked forward every year, when she and her three brothers would get together for a foursome of golf.
She loved to shop for presents for the "little ones" and to find those drastic markdowns on the gorgeous clothes she wore from Jacobson's, Saks, Lord & Taylor, Hudson's and Macy's.
She was not only generous with her time, volunteering at church, Junior Achievement, the convent and many other organizations she felt deserving, she was generous with her finances to her nieces and nephews and to numerous charitable organizations as well.
She always enjoyed her luncheons; with Father Brian and the girls form the parish office, her Cadillac retirees' group, and the many friends she had collected over her lifetime.
Connie was truly a Carruthers family treasure and she will be deeply missed. She is survived by her brother Robert (the late Dorothy). Many loving Nieces and Nephews, Mark Slivinski, Kimberly (Daniel) Dudley, Robert (Andrea), Susan, Ellen (James) Holt, Michael (Michele), Ann Marie (William) Carruthers-Vida, Timothy (Laura), Jack (Annie), James (Lynn), Kevin, Kirk (Kerry), and Brian (Catherine). She was preceded in death by her parents Frank and Constance (Gusty) Carruthers, to whom she was a very loving and caring daughter until their deaths, her sister Mary Ellen (the late Joseph) Slivinski, her brothers Joseph (Suzanne), Donald (the late Catherine), and her niece Judith Slivinski. She will also be sadly missed by her 31 great nieces and nephews, whom she adored, her many dear friends, and her fellow parishioners.
She attended church at St. Fabian's where a memorial mass will be held in her honor sometime in the future. Private services for the family have been held and Connie has been laid to rest in Holy Sepulchre Cemetery, Southfield.
In lieu of flowers, contributions can be made to St. Jude Children's Research Hospital.