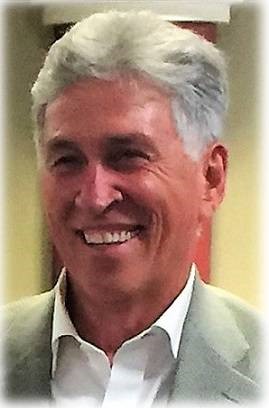 Gregory W. Anderson
September 26, 1948 - April 30, 2020
Gregory William Anderson, age 71, passed away on Thursday April 30, 2020, at Henry Ford Hospital, West Bloomfield after contracting COVID-19. He battled for over a month, but sadly succumbed to this devastating virus. His family was truly blessed with the continued prayers and comfort they received from friends and family, and will be forever grateful.
On September 26, 1948, a bouncing baby boy was born to Walter and Betty Anderson of Traverse City, Michigan. Five years later, his adorable sister Elizabeth (Liz) was born making their family complete. Greg 's family was a driving influence and would shape his future. His father had a strong presence and influenced his love of hunting, fishing and sports. His mother influenced his kind and caring nature and always made his favorite hot cocoa and toast to comfort him. Greg was very protective and loved his baby sister Liz. He was extremely proud of all her accomplishments, and passion for anything she pursued. The whole family shared an infectious smile that warmed the hearts of all.
A favorite family memory is while Greg was out fishing, he decided to turn back the time on his watch, allowing more time fish. Arriving late for dinner, Greg explained to his dad that his watch must not have been keeping the right time. That night his dad gave his own watch to Greg, knowing full well it kept perfect time. Needless to say, Greg never tried that again.
Greg graduated from Houghton High School in 1966. In 1970, he earned a Bachelor's degree from Alma College where he played on the Football and Baseball Teams. He then attended Michigan State University where he earned an MBA.
Following in his father's footsteps, the late Captain Walter Anderson, Greg joined the Michigan State Police in 1970. During his time with the MSP, he had a successful career in the Narcotics Division eventually retiring as Detective Sargent. He maintained a close relationship with many of his fellow officers until the day he passed.
In 1978, Greg met Shannon, the love of his life, on a blind date while she was home on a visit from California. God had a plan for Greg and Shannon. The time they spent together was special and they both knew it. Shannon returned to California and through Greg's persistence, he talked her into moving back to Michigan. Their love for one another blossomed into 37-years of marriage and a life filled with laughter, adventures and happiness.
Greg and Shannon were blessed with two wonderful sons, Ryan and Andrew. Greg absolutely adored his sons and loved spending time with them, supporting their dreams and being a wonderful father, friend and mentor. For the boys, their dad was larger than life and never took a half swing at anything. Greg's passions have been passed down to his boys and they will forever take comfort in the many memories they shared together.
Greg was full of life and wanted to give back to the community. He served on the Crime Prevention Advisory board of Farmington Hills, Farmington Hills Police Benevolent Association, Crime Stoppers and the Southeastern Michigan Chiefs of Police Association. He was also a certified fraud examiner with the National Association of Certified Fraud Examiners and was on National Anti-Fraud Boards. Greg had been a lecturer for numerous organizations, including the FBI and provided testimony in state and federal cases. Greg appeared on NBC Nightly News, Geraldo, American Greed and Focus Detroit. Greg was the recipient of the Guiding Light Award and was a Distinguished Clown for the Detroit Thanksgiving Parade for 25 years. When the boys were little, they enjoyed bundling up in warm clothes, sitting in the grand stands drinking hot chocolate and patiently waiting for their dad to arrive in his clown costume. This became a family tradition with Greg loving every moment.
Greg had many passions, but the one closest to his heart was being a part of The Rainbow Connection for 35 years. As a past President and Board Member, he had the opportunity to be involved in making dreams come true for Michigan children with life threating illnesses. He was so proud to be part of such an amazing group of people dedicated to working tirelessly to grant wishes for terminally ill children and supporting their families.
Greg retired in 2016 as the Vice President of Corporate and Financial Investigations for Blue Cross Blue Shield of Michigan after 35 years of service. His department was the first of its kind in the United States to aggressively pursue and help prosecute perpetrators of fraud and was recognized by the Center for Medicare and Medicaid as "one of the best, if not the best healthcare fraud Special Investigative units in the United States". Over the years, CFI received numerous awards for excellence and he was very proud of all the individuals that helped make CFI so successful. Greg could be tough but was a man with passion and integrity who loved his CFI family and the Blues.
Greg had passion for everything he did in life, was a great man and even better friend. He loved the family lake house and would delight in the sound of the loons on the lake, pontoon rides, the sun rising and setting, and most of all, the time spent with friends and family. He lived a dozen lifetimes in his 71 years and his legacy will live on forever. As Greg would often say, "It's just another day in paradise."
Shannon thought they would grow old together, but God had another plan. Although we don't understand why he was taken so soon, we believe that love, faith and the wonderful memories of our beloved Greg will comfort us forever.
God looked around his garden
And found an empty place,
He then looked down upon the earth
And saw your tired face.
He put his arms around you
And lifted you to rest.
God's garden must be beautiful
He always takes the best.
He knew that you were suffering
He knew you were in pain.
He knew that you would never
Get well on earth again.
He saw the road was getting rough
And the hills were hard to climb.
So he closed your weary eyelids
And whispered, 'Peace bethine'.
It broke our hearts to lose you
But you didn't go alone,
For part of us went with you
The day God called you home.
-Katie Evens
Greg was the beloved husband of Shannon, loving father of Ryan and Andrew (Alexandra), cherished son of Betty Aschom (Don) and the late Walter Anderson (Billie), son-in-law of Bette Langkil, dear brother of Elizabeth Thompson (Mark), uncle of Nicholas Thompson (Lindsay), Erin Landon (Michael), Heidi Daniels and Kamilah Triplett, nephew of Bill Gregory, Shirley Schwarz, Sandy Hall (Chuck), Barbara Lintz (George), Eileen Fulton (Neil) and amazing friend to countless others who he encountered.
Our dearest Greg, welcome to the world of endless innings and fairways.
Due to current circumstances, a celebration of Greg's life will be planned for a future date. Memorial contributions in his name are appreciated to The Rainbow Connection.