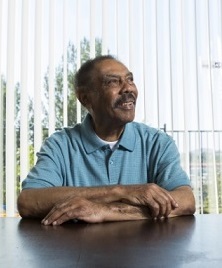 Odell Johnson
March 30, 1939 - June 13, 2020
Odell - a loving father and devoted husband - was born on March 30, 1939, to Jay Johnson and Ruth Odessa Hudson in Lawton, Oklahoma.
Odell was very proud of his accomplishments as an Engineer. He received a Bachelor of Science Degree in Mechanical Engineering from Purdue University in 1962. At Purdue, he was a trailblazer, being the only African American graduate in Mechanical Engineering that year. The university now has a scholarship endowment named in his honor. Odell also briefly served in the military and was honorably discharged from the U.S Army as a FIRST LIEUTENANT Ordnance Corps in 1967.
Odell was passionate about his professional career, enjoying a 35 year career at General Motors where he was responsible for managing and planning new programs. During his tenure at GM, Odell also earned an Executive MBA degree from Michigan State University. When he retired in 2001, he was widely well-respected as an engineer and mentor for his contributions. After his retirement, Odell continued to be a problem-solver. He loved tinkering with new computer software and linking devices together. So much so, that at any one time there would be at least 5 different remote controls in the family room controlling all of his multimedia devices.
Odell was a devoted husband, father, grandfather, uncle and friend to many. He was affectionately known by many names, Odell, OJ, PAPA, Juice, Daddy and Babe. To know him was to love him. Odell loved his music and he loved to play it LOUD! He also loved the comradery of his buddies who enjoyed an annual golf trip to Hilton Head Island.
However, everyone knew that his true love was his wife Marvis. He consistently doted on her and was not afraid to show his affection. Odell truly loved his friends: Bill & Ann Newell, Al & Wendy Ware, and Charlie Beckham (just to name a few). They were all part of OJ's extended family.
Odell was also a member of Pine Hill Congregational church where Rev Dr Charles Packer is the Pastor. He leaves a host of members to cherish his memory.
Odell Johnson of West Bloomfield Michigan, made his transition peacefully on June 13, 2020, at the age of eighty-one. He was preceded in death by his parents, Jay Johnson and Ruth Odesa Hudson; and brothers, Jay C. Johnson Jr. and Rudolph Wade.
He will be lovingly remembered by his devoted wife of forty-two years, Marvis Johnson; two daughters, Angela Johnson and Wendy Johnson; three sons, Odell Johnson Jr, Randall Johnson and Aidoo Osei; ten grandchildren; five great grandchildren, one brother Ricky Fred Jones, one sister Thealynn (Keith) Cork; and a host of nieces and nephews, all of whom loved him very much.
A private service will be held. Viewing will be held on Wednesday, June 17th from 4:00 p.m. - 7:00 p.m. at McCabe Funeral Home, 31950 W. 12 Mile Rd. Farmington Hills, MI 48334; PH (248) 553-0120. When visiting, to keep all family members and friends safe, kindly remember to wear a mask.
In Lieu of flowers, donations can be made in his honor at Purdue University to the Odell Johnson Scholarship Fund Endowment
By mail: Please make out the check to "Purdue Foundation." On the check's memo line, or in an accompanying note, list "Odell Johnson Scholarship." Donors may mail a donation to: Purdue Foundation, 403 W. Wood St. West Lafayette, IN 47907.
Online: www.giving.purdue.edu - you can select to give to the "Odell Johnson Scholarship." If you need assistance, please email: cechandler@prf.org
or
Pine Hill Congregational Church, 4160 Middlebelt Rd, West Bloomfield Township, MI 48323 (phcc@pinehillchurch.net)
A memorial site for Odell Johnson is available at www.forevermissed.com/odelljohnson/about where you can add a tribute of your own to OJ or add stories that you have of him.