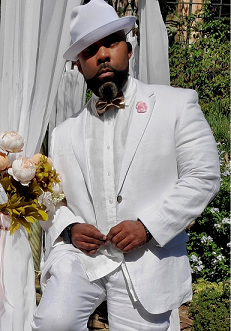 Shawn Alexander
February 26, 1968 - June 9, 2020
Shawn was born in Detroit, Michigan on February 26, 1968, and was raised by his loving parents Rosalyn and the late Robert Lathon.
He had many talents such as drawing, cutting hair, and cooking. As a child, he was featured in the Detroit Chronicle newspaper for an exceptional self-portrait he drew. He attended Henry Ford High School where he earned the name 'Prep' for his stylish fashion sense and preppy style of dressing.
He graduated in 1986 and got his first job at Apollo grocery store in Southfield, MI where he met the love of his life, Diana. They married 5 years later in 1991 and was blessed with a baby girl named Ciera soon after. Anyone who knew Shawn knew that his baby girl was the apple of his eye. He was crazy about her and felt that she was his greatest accomplishment in life.
Shawn was a self-taught barber, extremely gifted at cutting hair, and was requested all across the Metro-Detroit area. He was even requested by 80's rap star, MC Hammer, and was later interviewed about his unique hair-cut designs on The New Dance Show on WGPR television network.
He accepted Christ as his Lord and Savior in June of 2008 and began his journey as a Christian.
Shawn worked at Oakland Hills Country Club and became a top server who was requested by many. He was one of their most versatile servers, able to work anywhere with ease and professionalism. He was very well-liked, and his co-workers were like family to him.
Shawn was very vocal about his past and the obstacles he overcame in life. He gave many people inspiration by telling his story and posting positive messages on Facebook.
He had a passion for his family and his greatest joy in life was vacationing with his wife and daughter.
What we will remember most about Shawn is his smile, his jokes, and his ability to brighten a room no matter what the situation. To know Shawn was to love Shawn. He was a kind, honest, and loving husband and father.
Shawn is preceded in death by his father Robert Lathon Jr. and his brothers Jermaine and Damon Sr.
He leaves to cherish his loving memory: His wife Diana; His daughter Ciera (Damon); His mother Rosalyn; His sister Tammy; His brother Shannon. Nieces and Nephews, Theo, Robert, Tiara, Demetrius, Sharita, Jamil, Jordan, Damon, Daja, Derrion, Camren, and a host of great-nieces, nephews, cousins, and friends. Shawn's cherished dog, Napolean, was adopted by his daughter who has always had a very close connection with the miniature pinscher.
A private family funeral service honoring Shawn's life will be held at McCabe Funeral Home in Farmington Hills. Memorial donations in his tribute to his family are appreciated.