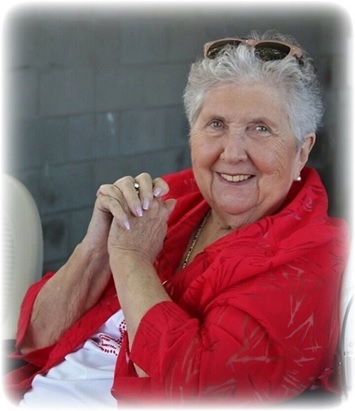 Nancy Bigelow Shaughnessy
May 17, 1925 - July 28, 2020
Nancy Bigelow Shaughnessy, 95, Mother, Educator
As the mother of eight mostly school-aged children, Nancy Shaughnessy took the unlikely midlife step of returning to a demanding career in education in the early 1970s. She turned over daily cooking, cleaning and supervisory chores to her children and dove into the role of teacher to hearing impaired students. For the next 20-plus years, the students she taught in school and those she nurtured at home would share her focus.
Ms. Shaughnessy, 95, a lifelong Michigan resident, died July 28, 2020 at her home on Green Lake in West Bloomfield. She had been under hospice care since the beginning of March due to failing cardiorespiratory health.
She had resided in her Green Lake home since 1986, having moved there with her husband, Jim, shortly before her retirement from teaching. Prior to that, the couple lived in the Rosedale Gardens neighborhood of Livonia for some 32 years. They were active in Livonia civic affairs, attended St. Michael's Catholic Church and sent their children to the city's public schools.
Ms. Shaughnessy was born in 1925 in the automobile manufacturing city of Flint, Michigan. Her father, E.J. Bigelow, worked as a painter for General Motors during an era of union organizing, sit-down strikes, the Great Depression and World War II. Ms. Shaughnessy would often reminisce of an idyllic childhood with her father puttering effortlessly in home and garden to radio replays of the Metropolitan Opera. Meanwhile, her mother, Mary B. Bigelow, baked, sewed and expertly managed the family's finances, providing the Bigelow children with an upbringing that felt inherently privileged within their working-class community.
"During the Depression, GM offered really nice houses at a very low price and my parents bought one," Ms. Shaughnessy recalled to her niece, the journalist Laura Bischoff, in a 2020 interview. "I lived three blocks away from Haskell Park, which had a swimming pool and also where I took dancing lessons. I played softball in the summer. I played tennis in the summer and I swam all year."
She attended Flint Junior College and then Hillsdale College, where she received a Bachelor of Arts degree in psychology. When she returned to Flint following her undergraduate studies she chanced upon an opening at the Michigan School for the Deaf, where, despite her lack of formal training, she was offered an opportunity to teach, thus launching a lifelong passion.
She met her future husband in Flint, where he was an engineering student at the General Motors Institute (now Kettering University). The couple married in 1949 and relocated to Farmington after Jim completed his studies and began work at Cadillac Motors in Detroit. With babies arriving soon after, the young couple quickly outgrew their small ranch house and moved to the family's longtime home in Livonia.
After the youngest of her eight children began school, Ms. Shaughnessy began substitute teaching on a part-time basis. That turned into a return to full-time work when she was offered a position teaching hearing-impaired students in the Garden City School District. She pursued and earned a master's degree in special education from Eastern Michigan University over summer breaks and moved with the hearing-impaired program to the Redford Union School District. She later transitioned from elementary to high school, where she served as a guidance counselor to hearing impaired students. She remained in touch with many of her former students and tracked their accomplishments for the rest of her life.
Ms. Shaughnessy took immense pride in her large family, which numbers more than 50, including children, grandchildren, great grandchildren and spouses. "All my life, I wanted a big family," she said in the 2020 interview. "I had to reach the conclusion that I would never have the clothes that my friends had. I would never have the beautiful homes that they had. I would never have the new cars. I just wouldn't have those things but in my mind: Who cares? It turns out, I had everything I wanted."
She is survived by her eight children, Suzanne (Shaughnessy) and her husband, Steven Hansmire, of East Sandwich, Mass.; Catherine Shaughnessy of West Bloomfield; James Shaughnessy and his wife, Margie (Benesh), of Diablo, Calif.; Thomas Shaughnessy and his wife, Catherine (Caya), of West Bloomfield; Richard Shaughnessy and his wife, Sylvia (Lewellyn), of Coronado, Calif.; Maureen (Shaughnessy) and her husband, Jon Merchant, of Farmington Hills; Daniel Shaughnessy and his wife, Mary (Soper), of West Bloomfield; and Patrick Shaughnessy and his wife, Karen (Smith), of Farmington Hills.
She is also survived by 17 grandchildren, Olivia (Hansmire) and her husband, Paul Potter, of Bethesda, Md.; Max Hansmire and his wife, Beth (Laverdiere), of Hingham, Mass.; Tyler Hansmire and his wife, Sara (Gordon), of New York; James Shaughnessy and his fiancée Lauren Wilmot of San Francisco, Robert Shaughnessy and his wife, Diana (Marques), of London, England; Anne Shaughnessy and her husband, Robert McFarlane, of Brooklyn, NY; Caitlin Shaughnessy and her fiancé Chris DeNunzio of New York; Nina (Shaughnessy) and her husband, Russ Gaubatz, of Yorba Linda, Calif.; Maria Shaughnessy of Winter Park, Fla.; Adam Shaughnessy of Detroit; Colleen (Shaughnessy) and her husband, Jeremy Werner, of Chicago; Daniel Shaughnessy of Coronado, Calif.; Keelin Shaughnessy of Brooklyn, NY; Jeffrey Merchant and his wife, Veronika (Vidlak), of Steamboat Springs, Colo.; Mallerie Merchant of Royal Oak; Timothy Shaughnessy of Marquette; and Kelly Shaughnessy of Marquette; and 18 great grandchildren.
Ms. Shaughnessy was preceded in death by her husband, James Alfred Shaughnessy, of West Bloomfield; her sister, Alice Jane (Bigelow) Keats, of San Leandro, Calif.; and her brother, Roderick Bigelow of Flushing, Mich. She was lovingly cared for in hospice by Interim Health Care of Novi, Michigan and in particular by home health aides Barb, Deb, Heather and Katherine.
Arrangements for a memorial service are pending. Donations, in lieu of flowers, may be made to your favorite children's charity.