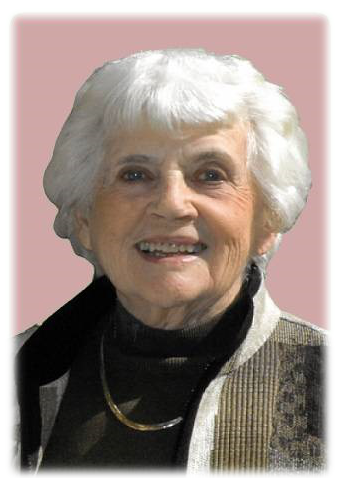 Jean Trotter
January 6, 1922 - August 16, 2020
Jean Trotter of Novi passed away August 16, 2020 at the age of 98. She was the loving wife of Rex for 69 years; devoted mother of Tom Trotter, Nancy Raykov, Jennifer Kramer, Donna Bussinger and Bob Trotter, cherished grandmother of Alanna, Jenna, David, Rachel, Bob, Andrea, Megan, Ryan, Jordyn and Maya; dear sister of the late Mary Lynch, Margie Arsen, and Jack Lynch.
Jean Trotter was born on January 6th, 1922 in Indianapolis, Indiana to Earl and Bertha Lynch. She graduated from St. Gregory in Detroit in 1940. Jean then attended Marygrove College and later Wayne State University where she graduated with a Bachelor's degree in Education.
Jean was a secretary during her earlier working years, and attracted the attention of a part-time elevator operator, (full time student), who finally succeeded in winning a date with her. Four years later, after Rex graduated from U of M they married on June 2, 1951. They were blessed with 5 children.
When the youngest of the children entered school, Jean felt like she had nothing interesting to do, and possessing a BS in Education decided to start a new career. She certainly had experience with young children and soon after making inquiry, she accepted a contract with the Detroit system as a kindergarten teacher.
After 15 years, Rex encouraged Jean to retire. Rex's job took him to interesting places he knew they would enjoy traveling together. When Rex retired, the travel bug had bitten them both and they continued their adventures in retirement, learning to appreciate the many cultures around the globe. Jean scrapbooked their pictures and diary notes for appreciation in later years.
Jean loved her home, and was always glad to return there from their global odysseys. She supervised Rex in the care of the lawn and gardens, seemed to know what she wanted, because the outcome was beautiful. She was partial to their German Shepard, and made sure there were leftovers for this intelligent pet. She supported the Michigan Humane Society and the Starr Commonwealth of Albion, Michigan.
Arrangements have been entrusted to McCabe Funeral Home. She will be interred at Holy Sepulchre Cemetery in Southfield.