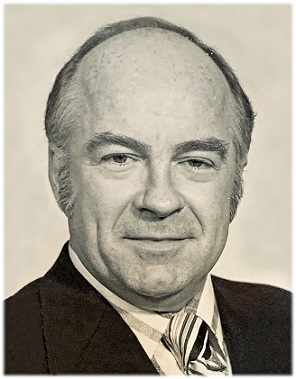 James Joseph Madden Jr.
June 25, 1927 - August 19, 2020
James Joseph Madden Jr., age 93, passed away peacefully surrounded by his five children on August 19, 2020. Jim was predeceased by his beloved wife Marie Halpin Madden, age 91, just over a year ago. Jim and Marie raised their family in Orchard Lake (with a brief stint in Chicago) after Jim was transferred to the area by Chrysler Credit Corporation in 1965.
Jim was an utterly devoted husband and father. Jim and Marie spent their last eight months together at Waltonwood, an assisted living facility in Novi, where they quickly became favorites of their caretakers, due to their open hearts and generous expressions of gratitude for the care they received. Jim dedicated himself to supporting and comforting Marie, as he escorted her to the threshold. After she passed, Jim often expressed having a vivid sense of her presence, as he occupied himself with settling his affairs and finding joy in very simple pleasures – the first sip of coffee every morning, spending time with his adult children and grandchildren, telling stories (he was a great story teller), discussing current events, offering perspective, and enjoying a bowl of coffee ice cream at the end of the day. He could be hilarious even in his final days and had the good fortune of having a clear mind right to the end.
Jim was born in Chicago, first of five children (one of whom, Billy, died in early childhood of viral meningitis) born to James J. Madden and Gertrude (nee Schaeffer) Madden. His father was an only child raised by his widowed Irish immigrant mother, after his Irish immigrant father (also James J.) died after being hit by a streetcar in Pittsburgh. Jim referred to his mother Gertrude as saintly. Gertrude's grandchildren know that this was no exaggeration. Jim stated in later life that he always felt fully loved and supported by his parents, which gave him a safe and secure foundation. He recognized how lucky he was in this. He always maintained close and loving relations with his parents and three siblings. (Indeed, it wasn't until after a phone call from his only surviving sibling Bob on the day he died that he let go.) Building on that legacy, Jim endowed his own nuclear family with the gift of feeling part of a loving clan, an extended family of grandparents, aunts and uncles, and cousins.
All who knew him would testify that Jim was a man of deep character and strong convictions. His character was rooted in a living connection with his Catholic faith. The innocent faith of his childhood was deepened and given firm intellectual and ethical grounding at St. Benedict's Preparatory School in Newark, NJ, where he attended high school from 1941-1945, coinciding in time exactly with WWII. He formed lifelong friendships there. Jim was elected class president in his junior year and vice president in his senior year. He ran cross country and track throughout and was a key member of the cross-country team which won the New Jersey State Catholic School Cross-Country Championship in 1944. Jim was voted "Most Popular" by his classmates in his senior year. This reflects aspects of his character that have shone throughout his life – a gregarious and engaging personality, warmth, a capacity for empathy, a quickness to encourage, a playful sense of humor, and a pervasive optimism.
Jim was drafted into the U.S. Army shortly after graduating from high school, in the interim between VE day and VJ day. He served in the medical corps at Fort Dix, NJ, where he worked as an electroencephalograph technician, caring for soldiers returning from combat suffering with "battle fatigue." He was inspired by that experience to become a psychiatrist, but as fate would have it, he met the gorgeous and talented Marie Halpin. They sparked and courted, and Jim decided to take a more expeditious career path after being discharged from the Army, so they could get married and start a family as soon as possible. Taking advantage of the G.I. Bill, he studied accounting at Boston College, and then Seton Hall, graduating in 1950. They were married shortly thereafter.
In later years, Jim acknowledged how fortunate he was that the social-structural supports (e.g., the G.I. Bill, federal mortgage support, etc.), economic conditions and opportunities that were available to him at the start of his career, happened to support and match his temperament and vocational inclinations. He worked his entire career in credit and finance, beginning with small banks in New Jersey, then with Associates, and ultimately, beginning in 1965, with Chrysler Credit. Jim loved his work and was extraordinarily successful. He was diligent and confident but not arrogant. He was highly regarded by his superiors, peers, and subordinates alike. He mentored women in the corporate world at a time when such was uncommon and unwelcome. He finished his 40-year career in 1990 at Chrysler Financial Corporation amidst accolades, as Executive Vice President.
In retirement, Jim and Marie immensely enjoyed spending time with their children and grandchildren. They experienced frustration too. Jim wanted to buy a place up north in Michigan, or perhaps Cape Cod where Marie was from, and a place in Florida. They could not "get on the same page" about that. However, with this and other frustrations, they learned to accept more fully and with grace, differences that arose during their 68-year marriage. As is appropriate, this brief account of Jim's life emphasizes the melodious and harmonious strains. In the interest of a fulsome and honest accounting, it should be acknowledged that his family like most all families, was not unfamiliar with suffering and emotional turmoil. While Jim was a product of his time in terms of internalizing the then prevalent attitudes associated with the roles of father and husband, he came to transcend their more restrictive dimensions. If there is such a thing as a benevolent patriarch, he was one. His intention was always to do the right thing. While he was sometimes too harsh and too insistent on his way, in recent years he acknowledged as much. Any errors he may have made were due to limitations in understanding, not lack of love. He apologized. He took responsibility. He took care to repair. He maintained an open heart and mind, and continued to grow spiritually, emotionally, and intellectually right to the end. He loved deeply and was deeply loved.
Jim was loving father of Pat (Gary Reid) Madden, James (Susan Macphail) Madden, Katie (Mark) Clifford, John (Shelly) Madden and Joseph Madden. Dear grandfather of Dylan Madden Roth, Philip (Jill Moore) Madden Roth, Talya (Josh Westbrook) Sametz-Madden, Laura Sands, Caitlin (Ryan Wallace) Clifford, Sean Clifford, Erin (Cody) Edgerton and Jennifer Madden. He is also survived by his youngest brother Robert G. Madden of Nutley, NJ. Jim was predeceased by his sister Pat Madden McMurrer (d. 2006), infant brother William Madden (d. 1932) and brother Clement C. Madden (d. 2017).
A memorial service will be held Saturday, August 29th, 1:00 p.m., at Prince of Peace Catholic Church, 4300 Walnut Lake Rd., West Bloomfield.
Jim was a lifelong supporter of St. Benedict's Preparatory School in Newark, NJ. He was a great believer in its mission. In lieu of flowers, donations can be made to St. Benedict's.