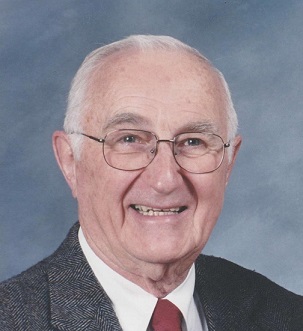 Ernst Schatzle
August 22, 1926 - August 27, 2020
Ernst Schatzle passed away August 27, 2020 at the age of 94. He was the loving husband of Joan for 72 years; devoted father of Douglas, Gregory (Mallory), Deborah (Gregory) Heckler, Carlene (Gregory) Rupprecht, and Jason Schatzle; cherished grandfather of Nicole, Paul (Rachel), Shawn, Jessica, Christopher, and Brandon (Madeline Bohn); and great grandfather of Ezra, Miles, and Roe.
Ernst was born on August 22, 1926 in Freiburg, Germany to Franz and Paula Schatzle. In 1933, he immigrated to the United States, joining his family in Detroit, Michigan. As Ernst grew he spent time as a boy scout, learning wood carving which would lead him to his career as a model maker. Ernst attended Mackenzie High School and enlisted in the United States Navy following graduation. He served from 1944 - 1946 as an Aviation Machinist Mate and Flight Engineer on a PBM mariner, which was a sea and air rescue plane. The war ended before he was deployed overseas.
While in the service, a young Ernst met Joan Buethe on a train as she traveled with her family to her home in California. After a short time courting, the two were married in 1948 at a Methodist church in Detroit.
Following his military discharge, Ernst began his career as a model maker, serving his apprenticeship at Murray Body before venturing to Ring Pattern and Manufacturing Inc. in Warren, Michigan. He was such a highly valued model maker who demonstrated strong organizational and leadership skills that he was promoted to foreman. His leadership was integral to the emergence of Ring Pattern as a premier model shop of the time. He dedicated over 35 years before his retirement.
In 1956, the family settled in Farmington Hills where they raised their children, Douglas, Gregory, Deborah, Carlene, and Jason. Ernst often worked but was able to take time for his family, embarking on camping and hunting trips in northern Michigan near Lake City. He passed down various skills he had learned growing up including archery and muzzle loading.
After retirement, Ernst furthered his talents of gardening and wood working. He built a variety of wooden furniture, clocks, and intricately chip carved bread boards. Many of his chip carvings were his own design. He also produced beautiful metal engravings on gun stocks. Each of his children and grandchildren have at least one gift to treasure. He and Joan also enjoyed visiting family in Nebraska and frequented Frankenmuth.
Ernst loved being a grandpa and spending time teaching wood working skills to his great grandchildren in his workshop. He was devoted to his family as they gave him the most pride, reveling in their success. Ernst's legacy will live on in their hearts. Funeral arrangements have been entrusted to McCabe Funeral Home. A private memorial service for Ernst will be held.