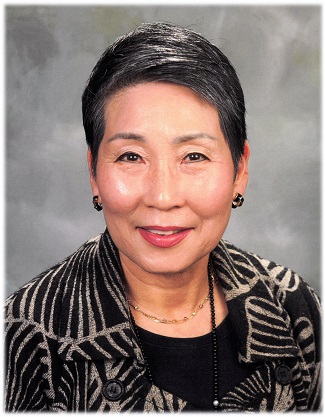 Mei-Jung Kim
July 7, 1940 - September 21, 2020
Mrs. Mei-Jung Kim, age 80 of Farmington Hills, passed away peacefully on September 21, 2020. She was the loving wife of the late Dr. Choon Jai Rhee (2019) and late Eung Chung Kim (2001). Devoted mother of Lillian (Joseph) Murphy and Lisa (Eunu Chun) Kim. Beloved grandmother of Hana, Jackson, and Tyson Murphy and Linus, Oscar, and Phoebe Chun. Cherished sister of Dr. Jung Whan (Hea Young) Kim and Choon Jung Kim. She is also survived by many nieces, nephews, cousins and friends.
Mei-Jung was born on July 7, 1940 to Hyung Geun and Soon Kyung Kim. She attended Ewha University in Seoul. Later, she met and married Mr. Eung Chung Kim. In 1964, the couple immigrated to Detroit, Michigan to pursue their dreams. Shortly after settling in, Mei-Jung gave birth to their first daughter, Lillian. Two years later came Lisa, their second.
Mei-Jung worked as an interior designer while raising her children. In the late 70's, she changed careers and opened a children's clothing store in Detroit named The Little Prince and Princess Boutique. She grew her business for over 20 years and built meaningful relationships with her devoted patrons. She also found time to volunteer, visiting soup kitchens in Detroit with Open Door Ministry. Later in life, Mei-Jung pursued a career in real estate, working at Real Estate One until her recent retirement.
Mei-Jung was a founding member of the Korean Presbyterian Church of Metro Detroit. Her church community and fellowship were always close to her heart. Mei-Jung married Dr. Choon Jai Rhee in 2016 after a lifelong friendship.
Mei-Jung was known amongst her community for her devotion and generosity toward her friends and her church. She was a doting grandmother, sharing her Korean heritage with her grandchildren and encouraged them to pursue their ambitions. Mei-Jung's love and inspiration will be dearly missed.
Ms. Kim's family will receive friends on Friday, September 25th from 3 p.m. – 8 p.m. at McCabe Funeral Home, 31950 W. 12 Mile Rd., Farmington Hills. Her graveside service will take place Saturday, September 26th at 1:00 p.m. at Oakland Hills Memorial Gardens Cemetery, Novi, Michigan. Due to the COVID-19 pandemic, there will be no reception to follow. A celebration in honor of Mei-Jung will be held at the Korean Presbyterian Church of Metro Detroit Church in 2021.
In lieu of flowers, Memorial Contributions may be made to Dr. Choon Jai Rhee's Scholarship at http://donorbox.org/kpcmd-offering to support college education for the children of Christian missionaries. Please select "Elder CJ Rhee Scholarship" from the dropdown box on the website to designate funds to the correct cause.
Politely keeping everyone's safety in mind, family and friends will be asked to wear a mask and maintain proper distancing while attending visitation.