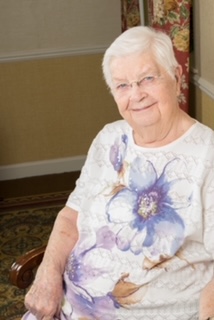 Patricia L. Dunlap
October 30, 1925 - September 22, 2020
Mrs. Patricia Lorraine Dunlap passed away Tuesday, September 22, 2020 at her home. She was born October 30, 1925 in Lansing, MI the only child of Alfred B. and Florence (nee Forward) Conrey. On May 30, 1947 she was married to Howard L. Dunlap in Plymouth at the First Presbyterian Church of Plymouth. He preceded her in death on January 19, 2000.
Mrs. Dunlap is survived by her loving children; Jacquelyn L. Foust, Joel (Diane) Dunlap and John (Anne) Dunlap. She was the fond grandmother of 5 grandchildren and 5 great grandchildren. She was preceded in death by her daughter Jill Cooper.
Mrs. Dunlap enjoyed traveling with her husband in their motorhome and attending antique car shows. She was a collector of antiques, Heisey Glass in particular. Pat enjoyed reading, playing cards with neighbors and friends and dominos. In her younger years she played High School Softball. Prior to her retirement she was the manager of Dunlap Heating and Cooling in Plymouth.
Private services were held with the placement of her cremated remains at the columbarium at the First Presbyterian Church of Plymouth.
The family has suggested that you raise a pint in memory of Pat as you make a donation to Angela Hospice (angelahospice.org) in her memory.