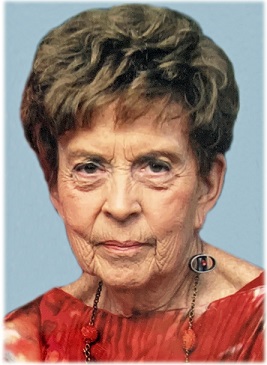 Maureen A. Voorheis
May 5, 1937 - October 31, 2020
Maureen A. Voorheis, age 83 of West Bloomfield, passed away October 31, 2020.
Maureen was born on May 5, 1937 in Detroit to the late James and Celia Rath. She attended Mercy High School and graduated from University of Detroit Mercy. On a blind date set up through mutual friends, Maureen met Walter "Rusty" Voorheis and as they say, the rest was history. The couple married two years later and raised a loving family. Being as kind and considerate as she was, it's no surprise that Maureen became a friend to so many. She was reliable through both the good and the bad times and provided the compassion needed to let others know how much she cared. She was everyone's "rock", and she did it gracefully.
Keeping the most beautiful house on their street, Maureen was proud of her and Rusty's 50 years of hard work and dedication to their home. Maureen no doubt had a green thumb and could make anything grow. Their yard was second to none, and working on the flower gardens and landscaping around the home didn't feel like a chore when they did it together.
Maureen had a true passion and focus for art. She worked with many mediums but was known for creating sculpture pieces with movement. Her contemporary metal sculptures have been selected for various exhibits and showcased in numerous art shows. Locally, Maureen has several permanent displays, including pieces in an area hospital and downtown Brighton. When Maureen's art career began to wind down, she decided to work for Kohl's department store. Because she was a people person, she enjoyed seeing her customers and was genuinely happy to help them. As fond as she was of her customers, she loved her co-workers even more. They would keep in touch with each other outside of the store and looked forward to meeting for lunch dates monthly.
Above all this, Maureen gave her all to her family. Her commitment to her husband and three children was unwavering and they always felt how much she adored them. Her legacy will live on not only through her captivating pieces of art, but as the devoted wife and amazing mother she always was.
Maureen was the beloved wife of Walter "Rusty" for 58 years. Loving mother of James, Cynthia Mazur, and Brian (Jamie Dietrich). Dear grandmother of Rose and Demi Mazur. Sister of Sharon (Robert) Lusky and Kathleen (Fredrick) Schwartz. Aunt of Kimberly (Michael) Shank, Katheryn (Jeff) Szuma, Krystn (Adam) Smerecki, David (Carrie) Lusky, Deborah (Robert) Maciolic, Elizabeth "Beth" (Jeffrey) Miller and Patrick Schwartz.
Memorial gathering for Maureen will be held on Friday, November 6th from 5:00 p.m. until the time of her service at 6:00 p.m. at McCabe Funeral Home, 31950 W. 12 Mile Rd., Farmington Hills. In lieu of flowers, Memorial Contributions may be made to the Henry Ford Cancer Institute in her name.