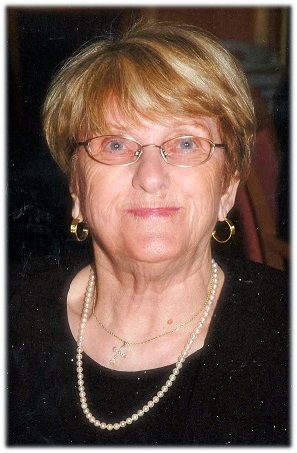 Edith Belanger
June 13, 1930 - November 3, 2020
Mrs. Edith Belanger passed away Tuesday, November 3, 2020 in Jacksonville, Florida. Edith was born on June 13, 1930 to Hans and Josephine Gradwohl in Memmingen, Germany. In 1955, Edith relocated to the United States after marrying her husband, Raymond Belanger. Edith spent most of her adult life in Michigan, where she first lived in the Ferndale area and later relocated to the Canton area. In 2017 Edith moved to Jacksonville, Florida to be closer to some of her immediate family.
Edith valued hard work, and spent most of her career in corporate sales at Hudson's Department Store, where she remained until her retirement. Edith maintained a robust social life, enjoying pinochle games with the ladies of St. John Neumann, bingo, bowling, and especially enjoyed teaching her grandchildren card and dice games. Until the very end, Edith was very competitive and gave her all to ensure victory no matter what. Edith was infamous for her meticulous appearance, and enjoyed preparing traditional German meals for her friends and family. A devout Catholic, Edith attended weekly mass at both St. John Neuman and St. Thomas a'Becket Catholic Churches in Canton, Michigan for most of her life.
Edith was predeceased by her husband, Raymond Belanger. She is survived by her two children, Sandy (Robert) Beeler and James Belanger, and two grandchildren, Amanda (Kyle) Kreshover and Adam (Katie) Pattock. She is also survived by 4 step-grandchildren, several great-grandchildren, a few siblings and several nieces and nephews.
Visitation for Edith will be held on Sunday, November 15, 2020 from 3:00 – 7:00 p.m. at McCabe Funeral Home, 851 N. Canton Center Rd., Canton, Michigan 48187. Rosary will be prayed at 7:00 p.m., at the close of visitation on Sunday. Visitation will continue on Monday, November 16, 2020, at 10:00 a.m. until the time of the funeral liturgy at 11:00 a.m. at St. John Neumann Catholic Church, 44800 Warren Rd., Canton. Following the mass, a luncheon will be held at Rose's Restaurant, 201 N. Canton Center Rd., Canton. Burial will take place at 3:00 p.m. in Christian Memorial Gardens, 521 E. Hamlin Road, Rochester Hills, Michigan 48307.
The family kindly suggests that in lieu of flowers, contributions be made in Edith's memory to her favorite charity: Gigi's Playhouse of Houston, 1704 Seamist Dr., Ste. 400, Houston, TX 77008.
To ensure the safety of everyone, we kindly ask that all guests wear a mask and maintain proper social distancing while attending services.