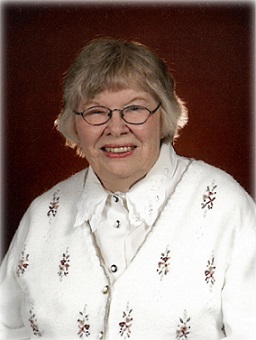 Margaret Mary Simon
January 5, 1928 - November 11, 2020
Margaret Mary Simon passed away peacefully on November 11, 2020 at the age of 92.
Margaret was the loving mother of Michael Patrick (Marc Weiner), Anthony Luke (Ruth), Eileen (Joseph) Estes, Bernard, and James (Heidi) Simon. Devoted grandmother of Margaret and Daniel (Paige) Estes, and Shayna, Andrew, Erin, Nicholas, Grace, Jack, Nathaniel, and Avery Simon. Cherished great grandmother of Gabriel and Penelope. Dear sister of the late James (Bettie) Doyle and late Daniel (late Barbara) Doyle and wife of the late Michael for 42 years.
Margaret Mary was born on January 5, 1928 in Detroit, Michigan to Bernard and Frances Doyle. She graduated high school in 1945 and earned a degree in Mathematics from Marygrove College in 1949.
After college she began working on some of the earliest computers at Detroit Edison and eventually became the first woman in their engineering department. By 1956, she was recruited to join Remington Rand, which she described as a great place to work. There she programmed Univac computers and travelled to support operations and sales. During her training, she had the opportunity to learn from computing pioneer Grace Hopper. Looking to travel less, she moved to Parke Davis where she became their engineering department's first female manager.
Margaret met Michael Simon in 1961 while playing in a church bowling league. The two were married in Detroit on November 23, 1963 and were blessed with their five children. Margaret gave up her successful career at the age of 36 to care for her family. She was able to live with a humble independence that her prior career afforded her.
Margaret was the epitomy of the greatest generation, having grown up through the great depression and World War II. She was as smart as they come and kind to everyone she met, yet embodied a toughness that allowed her to persevere through immense, seemingly insurmountable challenges. Her children thought the phrase 'has a strong backbone' must have been keyed to describe her.
Her compass always pointed true North and she never failed to show charity, empathy and compassion for those in need. She had immense pride in her family, was unendingly supportive and loved them unconditionally. Anyone who got to know her was impressed by her pure goodness, astounding intelligence, and absolute toughness.
In her later years, she loved being a grandmother and great grandmother and being a part of her grandchildren's and great grandchildren's lives as they grew.
Margaret loved Red Wings hockey and was a season ticket holder in the Olympia days.
If you lived in our parish, you knew that hands down she made the best lasagna.
At 92 Margaret had not lost her love of life. She died peacefully with a tear in her eye for the love of those she was leaving behind.
A private funeral mass for Margaret will be held at Prince of Peace Catholic Church, West Bloomfield. She will be laid to rest at Holy Sepulchre Cemetery, Southfield. In lieu of flowers, memorial contributions may be made to the Capuchin Soup Kitchen and St. Jude Children's Research Hospital in Margaret's name.