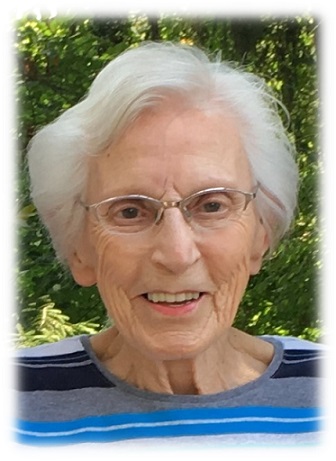 Ruth Elaine (Six) Allaben
January 11, 1931 - January 25, 2021
Ruth Elaine (Six) Allaben, 90, died peacefully at her home in Novi on January 25, 2021. Amid the ringing of church bells, Ruth was born to Paul and Josie Six on a Sunday morning in Grand Rapids. In childhood, she had fond memories of fishing on Bill's Lake as the middle of their three girls.
Ruth graduated from the University of Michigan as one of only 14 women receiving Bachelor of Business Administration degrees in 1952. She moved to Detroit to work as an analyst for the Detroit Health Commissioner, supporting her then husband Robert Allaben while he attended medical school. She later worked as an accountant for the Presbytery of Detroit, applying her legendary knack for numbers. Ruth never intended to stay in Detroit, but 69 years later, she still hadn't moved away.
Through those years, she raised her three children, always a dedicated and caring mother. She also maintained close friendships stretching back to childhood and college, while noting what a special gift it was to make new friends later in life, which she did right up to the end. She was a woman of strong faith as well, finding spirituality in the wonders of nature. Her home was filled with imagery of birds and flora, including her favorites: trillium and Queen Anne's lace.
A "community activist" before that was even a term, Ruth was involved with local government, schools and the First Presbyterian Church of Farmington, where she served as a deacon and elder. Later, she held multiple leadership roles on her condominium board.
Many of Ruth's weekends were spent cheering for Michigan in front of the TV, and at her house all activities paused for Jeopardy each evening. She was an expert bridge player as well, and only the Sunday New York Times crossword puzzles were enough of a challenge for her. She was also known for her hand-crafted birthday and Christmas cards, making and sending 40 cards just weeks before she passed away. Her thoughtfulness, devotion and love were evident to all who received her greetings.
Ruth is survived by her children Beth (Matt Chambers), Janet (Alan) Crain and Bruce (Beth Vogt) as well as six grandchildren. Ruth was predeceased by her sisters Margaret Coffman and Sally (Fairbrother) Mouthann. Due to Covid, her memorial service and interment of ashes at the First Presbyterian Church of Farmington memorial garden will be private. In lieu of flowers, memorial contributions may be made to Gleaners Community Food Bank or the charity of your choice.