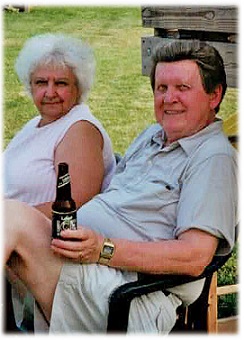 Edward P. Pietrzak
October 8, 1928 - January 28, 2021
Edward P. Pietrzak, 92, of Westland, MI, passed away January 28, 2021. Beloved husband of the late Angeline. Loving dad of Paul (Jayna), Lynn (Jeff), and Laura (Chris) Armbruster. Proud grandfather of Tyffany, Heather, Samantha, Edward, Hannah, and Cole. Proud great-grandfather of Tristan, Tucker, Felix, Myles, Hector, Henry, Aniela, Raleigh, Luke, and 2 more on the way. Loving brother of Sophie and Irene.
Our dad was born 1928 in Detroit and lived and attended school in the Poletown section of the city until 1956 when he moved to Westland. He attended St. Hyacinth Catholic School and later attended a trade school to complete his education. He shared many fond memories of his childhood and his relationships with his parents, sisters, and friends. Holy days were equally important as holidays. He lived through the decades that witnessed the Great Depression, WWII, Korean War, Vietnam War, and the many historical events of the 80s, 90s, and the 21st century. He proudly served in the U.S. Army with the 14th Armored Cavalry Regiment as part of the post-war operations in Germany starting in 1950 and honorably discharged in 1952.
After his service, our dad began his career of 38 years at the Hydramatic Transmission Division of General Motors. He worked his way up to the position of General Foreman. Hydramatic, located adjacent to the Willow Run Airport was a massive facility and a tough place to work as there were far fewer worker protection laws and rules in place during his time in the plant. He took a great deal of pride in his work and hardly ever took a sick day. Through conversations with his co-workers and people who worked for him, he was admired and respected by all of them. They all admired his great worth ethic and dedication to his company and co-workers alike.
He married our mom Angeline in 1955 and they built our home in Westland in 1956. Our mom and dad had many close friends and loved to socialize. They traveled to many places and enjoyed picnics, ethnic dances/festivals, numerous gatherings and celebrations with family and friends. They took great pride in their new home and church, St. Damians. Our dad helped install the sod when the church was built. Our dad was truly dedicated to our mom in every way possible. He loved her dearly and they remained soulmates until her passing in 2002. It was a great loss for him but their hearts were and always will be attached.
Our dad was an exceptional father, husband, and friend. He had a deep-rooted pride of his heritage and catholic faith which he passed on to his children. He grew up in an era when such things mattered. The 3 of us siblings were involved in many activities from an early age through high school. We can honestly say that our dad never missed one event we were involved in. This included baseball, football, basketball, track, cheerleading, and all school related events. We always knew we could count on our dad. He was always helping us with home projects including the actual building our homes. He was very fond of all of his grandchildren and showered them all with love and affection.
Our dad was a very kind man who gave generously to the needy, many charities, and his church. He believed strongly in helping his fellow man and strengthening the community. He was the kind of guy who would send greeting cards for every occasion to his children, grandchildren, friends, etc. He was truly a great man and friend and we will miss him dearly. He definitely left a positive lasting impression and we will never forget him. It's great comfort to know he is now reunited with our mom in Heaven.
~ The family of Edward P. Pietrzak
A memorial mass for Mr. Pietrzak will be planned at a future date.
Memorial donations in his name are appreciated to St. Jude Children's Research Hospital.