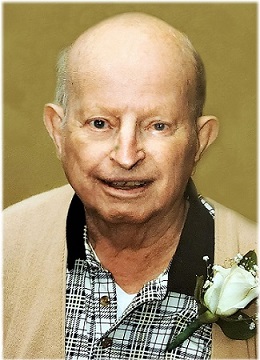 Leon Braisted, Jr.
April 3, 1935 - January 31, 2021
Leon O. Braisted, Jr., age 85 of Farmington Hills, passed away January 31, 2021.
Leon was born April 3, 1935 in Detroit, Michigan to Leon and Hazel Braisted. He obtained his master's degree in Mechanical Engineering and worked for General Motors. Rising to executive level in their truck and body division, he retired after 30 years of dedication.
At a Fireman's Field Day in 1953, Leon would find himself attending the event with a group of friends. Part of this "Cass Tech Group" of friends would include a woman named Sylvia. Fate seemed to work its magic and the two found themselves hitting it off on the dance floor. Fast forward to October 23, 1956, the two were married and embarked on the beginning of a wonderful 65-year journey.
The Braisted family grew to include four children. As a husband, Leon was calm and collected, smart and reliable. These attributes carried into fatherhood, and Leon grew to become a genuine family man who always provided. He was very generous, but taught his children the value and importance of an honest day's work. And with his exemplary work ethic, it was natural for him to lead by example. He instilled confidence by showing the happiness and success you could achieve by simply earning your way to what you wanted in life.
Leon loved to spend time vacationing with family. With their favorite spot being Florida, the Braisteds always looked forward to their time together. The family enjoyed many camping trips throughout the years, and eventually acquired their own space in Canadian Lakes. The spot would become a favorite of the grandchildren and they couldn't wait to spend time with their grandpa.
With Leon's retirement came more time to enjoy the finer things in life, like traveling with Sylvia. Aside from relishing the coveted title of "Snowbirds" and spending the winter seasons in Florida, the two traveled to Europe, went on cruises, and explored closer to home, making their way to different states.
Leon was an avid golfer, and a good one at that. With a handicap between 6 and 8, he played all the golf he desired while in Florida. He also looked forward to card games with neighbors. He enjoyed bowling and his time on a league. With his automotive background, Leon liked to work on cars, both his own and his family member's. He's refereed for several sports including basketball, volleyball and softball. He even had a passion for investing in real estate whenever the opportunity arose.
More than deserving of the full life Leon lived, he was always humble. More than anything, the most important things in life to him were his family and his Lord. He faithfully attended church and was grateful for all the blessings bestowed on him. Beyond proud of his cherished family, Leon left an amazing legacy along with wonderful memories to treasure. He was dearly loved and will be deeply missed.
He was the beloved husband of Sylvia for 65 years. Loving father of Jennifer, Sherri (Cliff), Leon III, and the late Brenda. Proud grandfather of Joshua, Jaclynn, Emily (Patrick), Matthew (Erin), Kyle (Paulina), Nathan, Kevin, Julie and Leon IV. Great-grandfather of Rosalie, Jocelynn, and Hannah. Also survived by his brother William (Joyceann) and sister-in-law Shirley.
A Funeral Service for Mr. Braisted, Jr. will be held on Thursday, February 4th, at 12:00 p.m. with visitation beginning at 10:00 a.m. at Market Street Church, 309 Market St., Walled Lake. Politely keeping everyone's safety in mind, visitors will be asked to wear a mask and maintain proper physical distancing while attending visitation and church services.
In lieu of flowers, donations in Leon's name are appreciated to the Market Street Church Youth Program.