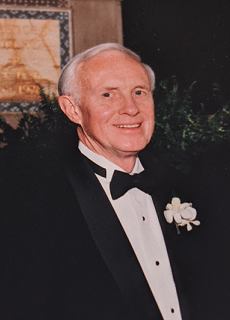 Robert Anson Brewer
February 15, 1930 - March 13, 2021
Robert Anson Brewer passed away March 13, 2021 at the age of 91. A lifelong Detroiter, he is survived by his loving wife Marion of 63 years; his sons William Dane (Erika) Brewer and their two children, Elizabeth and Annie, and Richard Anson (Keith) Brewer and his children, Helen and Carrie. Bob also leaves his brother-in-law James Parsons Dane and his family. He is preceded in death by his parents, George Edward and Ena Jemima.
Bob was born in Detroit and attended the University of Michigan, obtaining his undergraduate degree in 1952 and graduate degree in 1953 in Mathematics and Statistics. He is a proud member of Theta Chi and a lover of U of M football. Bob worked as an Executive at GM, ultimately serving as Director of Compensation. He later became the Director of Compensation for Manufacturers Bank. Bob also served on the Board of Directors of SelectCare. He was active in his community, devoting his time as a Scout Master for Boy Scout Troop 263 and was a longtime director of the Farmington Public Library. Bob and Marion travelled the world extensively. They also enjoyed local music and theater programs, purchasing season tickets to support their endeavors. Family and spending time together in Charlevoix brought Bob his greatest joy.
Due to Covid restrictions, Mr. Brewer's funeral services are private. He will be laid to rest at Brookside Cemetery in Charlevoix, Michigan.
In lieu of flowers, Memorial Contributions to the Charlevoix Historical Society are appreciated