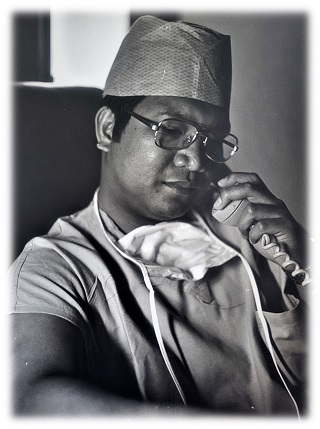 Leonel M. Torres, MD
February 14, 1941 - September 6, 2021
Leonel M. Torres was born in the paradisal city of Pagudpud, Ilocos Norte in the Philippines on Valentine's Day 1941 to Leon Torres and Maxima Manegdeg Torres. The backyard of his childhood home was the pristine white sand beaches and blue waters of the China Sea, where he learned to swim. At one point, his home was commandeered by Japanese soldiers and turned into a garrison until the end of WWII. Witnessing the many atrocities during war as a child, honed his ability to empathize with the suffering of others. This empathy would serve him later in life throughout his medical practice. Leonel was four years old, and his younger brother Efren was two years old when they lost their father Leon during the war. Leonel lived with and was cared for by his grandmother, Juliana Manegdeg (called Lola Opo), his Aunt Mining (Tiya Mining) and his cousins in Pagudpud until they moved to Sampalic, Manila in 1953, so his Tiya Mining could go to school. Four years later, in 1957, the family moved again to Project 4, Quezon City. It was in Project 4, where Leonel grew up with his cousins, his chosen brothers, and graduated from high school at the National University.
Education was so important to the family that they pooled their money together to enable Leonel to
attend the prestigious University of the East Ramon Magsaysay Memorial Medical Center to study
medicine. Leonel made lifelong friends while in medical school and remained in close contact with them for decades after graduation. He was extremely charismatic and made friends easily.
While in med school he started courting Paz Lumbo, an ambitious young CPA from Batac, Ilocos Norte, the town where his father was from. They met as children, when he would travel 8 hours from Manila to visit his grandfather Maximiano Torres (Lolo Max) and grandmother Pura Torres (Lola Pura). Their first date was on September 29, 1959, Leonel was 18 and Paz was 19. He stole a kiss from Paz, and he was in love. The long distance between them was filled with the exchanged love letters that Paz bound together and still preserves to this day. Leonel graduated from medical school in 1966.
In the 1960's, the United States was in the midst of a physician shortage and Leonel was recruited by
Toledo Hospital for an internship. He and Paz had a secret civil wedding to start her visa process to come to America as his wife. They eventually married on January 27, 1967, at the Immaculate Conception Parish Church in Batac, Ilocos Norte. Only two witnesses were present, Leonel's Uncle Doroteo Torres and his wife Antonia. They landed in Toledo, OH later that year armed with $200 that their family pooled together (equivalent to $1,600 today), two suitcases, an education, a promise of work and an intense work ethic. America lived up to her promise of opportunity and the young couple thrived. He embraced America as hard as America embraced him. He was a true patriot, and his life is a testament to the American dream.
Leonel finished his internship in Toledo, decided to specialize in Anesthesiology and earned a residency at Henry Ford Hospital in Detroit, MI. He and Paz made the move to Detroit with their first daughter in tow, Haidee, who was born on May 28, 1969. Their second daughter Liane joined the family on October 21, 1970. With the arrival of Jayson on January 22, 1973, Leonel's family was complete.
Leonel completed his residency and began to practice anesthesiology with Outer Drive Anesthesiologists. He was mainly based at Mt. Carmel Hospital (currently DMC Sinai Grace Hospital). During his tenure at Mt. Carmel Leonel oversaw the CRNA program. With the importance of education ingrained since childhood, Leonel loved sharing his knowledge of medicine and passion for anesthesia to Registered Nurses and assisted their development into Certified Nurse Anesthetists. He stayed at Mt.Carmel when the hospital became DMC Sinai Grace, becoming a Level 2 trauma center. Leonel was often the anesthesiologist covering trauma. The stress of the work began to take a toll on his health, and he retired in 1993.
Throughout his career, Leonel was first and foremost a family man. The long hours required for work
kept him away from home, but he was infamous for asking to have someone cover for him for an hour or two so he could run home and say good night to his children before going back to the hospital to finish out his shift.
In his downtime, he loved to study atlases of America. He would memorize the interstate highways, state borders, and points of interest. Even in the last few weeks of his life, he would recommend must-see places, when possible, trips were discussed. Growing up, he never had a new bicycle or saw much of the world and so he made sure that each of his children always had a new bike and that they had opportunities to experience the world. This desire to experience the world prompted Leonel to plan extensive vacations including trips along the Atlantic and the Pacific coasts all together in a car. The family traveled up and down the Pacific Coast Highway and from Maine all the way down to Florida. There were other trips to Hawaii, Mexico, the Caribbean and Alaska. As he flew his family around the globe, he instilled in them a similar love of travel and adventure. After retirement, Leonel and Paz traveled on their own visiting China, Thailand, Russia, the United Kingdom, Africa, Australia, New Zealand, Fiji, Panama, France, Hungary, Germany, Switzerland, Austria, the Netherlands, Mexico, Puerto Rico, Costa Rica, Aruba, Spain, Italy, Greece, Dubai, the Czech Republic and many more locations.
Leonel took scuba diving lessons, played tennis, and bowled in a league. After retiring, he fell in love with the sport of golf. He also met regularly with his poker group. Music was an integral part of who he was. He never had a lesson, but he could listen to a song and replicate it on the piano, violin or ukulele. His voice was smooth as velvet and could croon with the best. As a member of The Singing Medics vocal group in medical school, he continued making music throughout his life. He passed this love for music and his talent to his children and grandchildren.
He raised his children to be proud Americans while also teaching them about their Filipino roots. They traveled as a family to the Philippines many times to establish and ensure a lifelong bond with their large extended family -- those many aunts, uncles and cousins who had remained in the Philippines. He proudly showed his family all of the places where he had lived and explored during his childhood and young adult life in the Philippines. They traveled from Pagudpud in the northernmost part of the Philippines to Manila. He showed them the church where he and Paz were married, his home in Project 4, where he went to school and even the bench he was sitting on with Paz when he stole that first kiss from her. The family visited his ancestral home in Pagudpud and even got to swim in the same China Sea on the same beach where Leonel had learned to swim so many years before. By showing them first-hand the rich culture and beauty of the Philippines, he gave them pride in their past and appreciation for their life in America with the associated opportunities and responsibilities. The life that Leonel and Paz gave to their family was comfortable, but it was a life to be appreciated and lived with humility and moderation.
Leonel was notorious for his endless generosity. He provided a college education for his own children
and for his nieces and nephews in the Philippines. He also gave education assistance to extended family and friends. Recently he helped a nurse assistant that he just met, while in inpatient rehabilitation in Las Vegas, all of the money that she needed for her nursing school tuition. He also did medical missions in the Philippines for those in need. Leonel was always trying to take care of others and built two large family homes in the Philippines, one in Manila for his family and one in Batac for Paz's family. He wanted everyone to have a safe home/refuge if ever needed. He repaired typhoon damaged homes for relatives, provided funds for medicine or medical procedures to help loved ones maintain their health. Being a humble man, Paz is sure that there are many more people that Leonel helped silently without her knowledge. He was just that kind of a person.
You could always count on Leonel for a witty comeback, a joke or a funny story. He was jovial, smiling and always willing to help. After retirement, Leonel and Paz settled in Henderson, Las Vegas. If you ever visited them, you would never be hungry. Their home was a welcoming revolving door of visitors on the ninth hole of the Revere Golf Club in Sun City Anthem. You could enjoy a panoramic view of the mountains while enjoying a cup of coffee or glass of wine from their back patio. If you wanted more privacy, you could enjoy a quiet moment by the fountain in their courtyard and listen to the coyotes at night. True to his instinct for travel, he developed his own personal tour of Las Vegas for all visitors. He had the tour mapped out to ensure that you could see all of the free shows in the lounges in one day.
Leonel passed away on September 6, 2021, at Ascension Providence Novi in Michigan surrounded by the family he loved so much. He was 80 years old and was preceded in death by his parents, Leon and Maxima Torres, his grandson Austen Torres and granddaughter Jordyn Torres. He is survived by his wife Paz Torres, children Haidee Heaven (Tyler), Liane Szczotka (Stanley), Jayson Torres (Roberta), grandchildren, Sophie Szczotka, John Szczotka, Cameron Heaven, Lauren Heaven, Ryan Heaven and Samantha Torres, brother Efren (Norma) and many cousins, nieces and nephews.
Visitation for Leonel will be held Sunday, September 12, 2021, at McCabe Funeral Home in Farmington Hills from 4:00PM - 8:00PM. Eulogy at 7:00 given by Jayson Torres and Leopoldo Palad as requested by Leonel. Funeral Mass is scheduled for Monday, September 13, 2021, at 11:00AM with in state viewing from 10:00-11:00 AM at St. Fabian Church in Farmington Hills. Luncheon reception will be hosted by the family immediately following mass at St. Mary's Cultural Center, 18100 Merriman Rd, Livonia, MI 48152.
Be advised that there is construction in front of McCabe Funeral Home and St. Fabian Church, please plan travel accordingly. Leonel's ashes will be laid to rest at Glen Eden Cemetery in Livonia, MI on September 25, 2021, to be attended by his immediate family.
Donations in memory of Dr. Torres may be made to The Michael J. Fox Foundation at www.teamfoxinthed.com