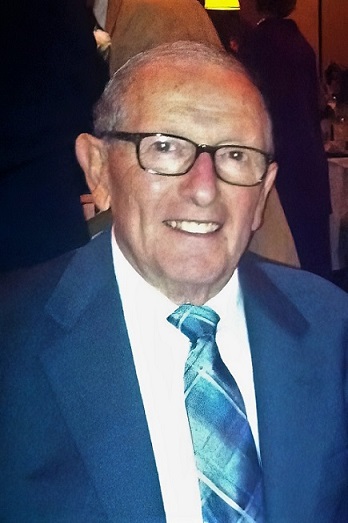 Peter E. Zervos
April 2, 1934 - October 10, 2021
Peter E. Zervos passed away October 10, 2021 at the age of 87. He was the loving husband of Anna for 61 years; devoted father of Angelo (Katherine), Maria (Edward) Power, and Limperis (Cynthia); cherished grandfather of Alexander, Kassiane, Thomas, Liana (Sakis Tsitsipas), Jacob, Maxwell, Peter, Matthew, Christopher and Samuel; and dear brother of Gus (Aynna) and the late John (late Maritsa) and late Michael (Irene) Zervos. Peter also leaves several beloved nieces, nephews, and godchildren.
His mother and father, Evangelo and Maria were both born in Chios, Greece in the village of Kardamyla. Evangelo immigrated to the United States and later brought Maria over and married. As the third of four boys, Peter grew up in Pittsburgh, Pennsylvania. He graduated from Perry High School and went onto briefly attend the University of Pittsburgh before being drafted into the United States Army. After serving his country, Peter found himself moving to Detroit, Michigan with his family. He returned to college at Lawrence Institute of Technology and enjoyed his schooling, majoring in Architectural Engineering.
One beautiful day, Peter found himself reunited with a close family friend, Anna Liadis, a girl he had known since childhood. The connection was deep and after just three dates, the couple was engaged to be married. They tied the knot and Anna was on her way to Detroit. Peter finished his schooling and went to work for the architectural firm Giffels and Rossetti before starting his own, lifelong family business. The newlyweds were blessed with three children: Angelo, Maria and Limperis and after living in Detroit for a short time, the family moved to Southfield to settle down. Peter's business, Zervos Construction Company, was a source of great pride and he always had a summer job for his kids and their friends and cousins, as well as working alongside some dear lifelong friends.
Peter always followed his faith, as a young boy and throughout his adult life. He was a founding member of Holy Cross Greek Orthodox Church in Farmington Hills, acting as a President of their parish council and serving the church in many other capacities. He also sang in the choir for nearly 50 years. Peter and Anna loved to travel together, seeing the United States as well as France, Italy, England, Panama, Jamaica, and other parts of the world. Peter loved his family and was a devoted husband, father and grandfather. His grandchildren will always remember the frequent family gatherings full of laughing, eating and fun with their Pappou.
Mr. Zervos' family will receive friends on Sunday, October 17th, from 4:00 p.m. – 8:00 p.m. with a 7:00 p.m. Trisagion at McCabe Funeral Home, 31950 W. 12 Mile Road, Farmington Hills. Mr. Zervos will lie in state on Monday, October 18th, at 10:00 a.m. until the time of his Funeral at 11:00 a.m. at Holy Cross Greek Orthodox Church, 25225 Middlebelt Rd, Farmington Hills. Peter will be laid to rest at Oakland Hills Memorial Gardens in Novi with military honors. Memorial Donations to Holy Cross Greek Orthodox Church are appreciated.