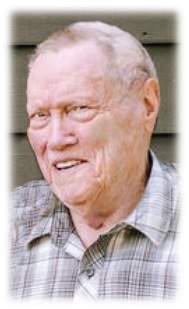 Kenneth E. Haggard
April 21, 1933 - October 23, 2021
Kenneth E. Haggard, age 88 of Farmington Hills, previously of Livonia and West Bloomfield, passed away suddenly on October 23, 2021.
Kenneth Haggard was born on April 21st, 1933, in Kings Mountain, Kentucky, the eldest of six children born to John Raymond and Ruby Haggard. He was a prominent businessman in the Mortgage Banking Industry for sixty-five years.
He is survived by his wife Leslie; his children Alan (Claudia) Haggard, Kathryn (Nick) Paparelli, Valerie Mundy, Patricia (David) Byrd and son-in-law Robert Remus and his step-children Jessica (Jeremy) Brandt, Lindsey (Sam) Grossman, Leonard Weinberger; his sixteen grandchildren, five step-grandchildren and seventeen great-grandchildren; his youngest sister Linda Albers; and many nieces and nephews. Kenneth was preceded in death by his parents John and Ruby Haggard, his first dear wife Dorothy of 56 years, his daughter Sherry Remus and his son-in-law Kenneth Mundy. He will be missed by all who knew and loved him.
Visitation for Mr. Haggard will be held on Wednesday, October 27th, from 2:00 p.m. to 8:00 p.m. at McCabe Funeral Home, 31950 W. 12 Mile Rd., Farmington Hills. Visitation will continue at the funeral home on Thursday, October 28th, from 10:00 a.m. until the time of his funeral service at 11:00 a.m. Entombment will follow in Parkview Memorial Cemetery, Livonia.
Memorial contributions in Mr. Haggard's name are appreciated to a charity of your choice.